---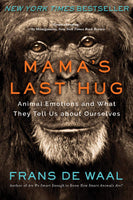 by Frans de Waal
W. W. Norton and Company
03/10/2020, paperback
SKU: 9780393357837
Mama's Last Hug is a fascinating exploration of the rich emotional lives of animals, beginning with Mama, a chimpanzee matriarch who formed a deep bond with biologist Jan van Hooff. Her story and others like it -- from dogs "adopting" the injuries of their companions, to rats helping fellow rats in distress, to elephants revisiting the bones of their loved ones -- show that humans are not the only species with the capacity for love, hate, fear, shame, guilt, joy, disgust, and empathy. Frans de Waal opens our hearts and minds to the many ways in which humans and other animals are connected.
Reviews:
"Before I realized Frans de Waal's connection to Mama's actual last hug, I sent the online video link to a large group of scientists saying, 'I believe it is possible to view this interaction and be changed forever.' Likewise, I believe that anyone reading this book will be changed forever. De Waal has spent so many decades watching intently and thinking deeply that he sees a planet that is deeper and more beautiful than almost anyone realizes. In these pages, you can acquire and share his beautiful, shockingly insightful view of life on Earth." -- Carl Safina, author of Beyond Worlds: What Animals Think and Feel
"Through colorful stories and riveting prose, de Waal firmly puts to rest the stubborn notion that humans alone in the animal kingdom experience a broad array of emotions." -- Barbara J. King, NPR
About the Author:
Frans de Waal, author of Mama's Last Hug, is C. H. Candler Professor Emeritus of Primate Behavior at Emory University and the former director of the Living Links Center at the Yerkes National Primate Research Center. He lives in Atlanta, Georgia.