---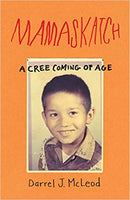 by Darrel Mcleod
Milkweed Editions
6/11/2019, paperback
SKU: 9781571313874
As a small boy in remote Alberta, Darrel J. McLeod is immersed in his Cree family's history, passed down in the stories of his mother, Bertha. But after a series of tragic losses, Bertha turns wild and unstable, and their home life becomes chaotic. Meanwhile, he begins to question and grapple with his sexual identity--a reckoning complicated by the repercussions of his abuse and his sibling's own gender transition... written in a series of fractured vignettes, and unflinchingly honest, Mamaskatch--'It's a wonder!' in Cree--is a heartbreaking account of how traumas are passed down from one generation to the next, and an uplifting story of one individual who broke the cycle in pursuit of a fulfilling and adventurous life.
About the Author:
Darrel J. McLeod is Cree from treaty eight territory in Northern Alberta. Before deciding to pursue writing in his retirement, he was a chief negotiator of land claims for the federal government and executive director of education and international affairs with the Assembly of First Nations. He holds degrees in French literature and education from the University of British Columbia. He lives in Sooke, British Columbia.
Reviews:
"The poignant reflections of a Cree family in 20th century Canada, Mamaskatch is one of the best memoirs I've experienced! Filled with the questioning and self-doubts of a child suffering abuse after abuse from abuser after abuser, McLeod's prose exposes the strength of someone who has survived: 'Mamaskatch! We're free!'" --Randy Schiller, Left Bank Books 
"A haunting and joyful ode to the resilience of an often complicated, always extraordinary mother. Intimate and affecting, Mamaskatch asks complex questions about the legacies we inherit and the way in which self-invention is a crucial act of survival." --Esi Edugyan, author of Washington Black 
"Mamaskatch dares to immerse readers in provocative contemporary issues including gender fluidity, familial violence, and transcultural hybridity. A fast-moving, intimate memoir of dreams and nightmares--lyrical and gritty, raw and vulnerable, told without pity, but with phoenix-like strength." --Jury Citation, Governor General's Literary Award for Nonfiction 
"A profound and tender love song, an elegy to a wounded family, and an unsparing, exquisitely moving chronicle of growing up 'Nehiyaw' (Cree). Like the birdsong his mother taught him to understand, McLeod's voice is magical; it will lift and carry you through bone-breaking grief with grit, optimism and wry, life-saving humour. You will not leave this book unchanged." --"Vancouver Sun" 
"A powerful, unflinching work of non-fiction, one that isn't afraid to leave itself raw and unfinished, nodding to the stories that are yet to come. . . . The figures McLeod writes about in Mamaskatch shimmer in the best kind of way. . . . Nothing, however, appears as brightly or as darkly as Bertha. The parts of the book written from her perspective pulse with their own kind of intensity. . . . Mamaskatch embodies the recognition of the way stories can help to pull one through the darkest moments."  --Quill & Quire