---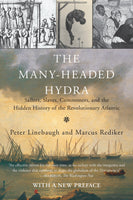 by Peter Linebaugh and Marcus Rediker
Beacon Press
09/03/2013, paperback
SKU: 9780807033173
Long before the American Revolution and the Declaration of the Rights of Man, a motley crew of sailors, slaves, pirates, laborers, market women, and indentured servants had ideas about freedom and equality that would forever change history. The Many Headed-Hydra recounts their stories in a sweeping history of the role of the dispossessed in the making of the modern world.
When an unprecedented expansion of trade and colonization in the early seventeenth century launched the first global economy, a vast, diverse, and landless workforce was born. These workers crossed national, ethnic, and racial boundaries, as they circulated around the Atlantic world on trade ships and slave ships, from England to Virginia, from Africa to Barbados, and from the Americas back to Europe.
Marshaling an impressive range of original research from archives in the Americas and Europe, the authors show how ordinary working people led dozens of rebellions on both sides of the North Atlantic. The rulers of the day called the multiethnic rebels a 'hydra' and brutally suppressed their risings, yet some of their ideas fueled the age of revolution. Others, hidden from history and recovered here, have much to teach us about our common humanity.
Reviews:
"A landmark in the development of an Atlantic perspective on early American history. Ranging from Europe to Africa to the Caribbean and North America, it makes us think in new ways about the role of working people in the making of the modern world. -- Eric Foner, author of Gateway to Freedom
"This is a marvelous book. Linebaugh and Rediker have done an extraordinary job of research into buried episodes and forgotten writings to recapture, with eloquence and literary flair, the lost history of resistance to capitalist conquest on both sides of the Atlantic. -- Howard Zinn, author of A People's History of the United States

About the Authors:
Peter Linebaugh, professor of history at the University of Toledo, is a contributing editor of Albion's Fatal Tree and author of The London Hanged, The Incomplete, True, Authentic, and Wonderful History of May Day, and Stop, Thief!
Marcus Rediker, professor of history at the University of Pittsburgh, is author of Between the Devil and the Deep Blue Sea, winner of the American Studies Association's John Hope Franklin Prize and the Organization of American Historians' Merle Curti Social History Award.