---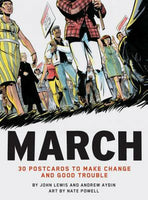 by John Lewis and Andrew Ayden, Art by Nate Powell
Chronicle Books
2/27/2018, hardcover
SKU: 9781452167442
These postcards showcase the words and artwork of MARCH, the New York Times bestseller about the life of Congressman John Lewis.  Featuring a special essay by Andrew Aydin on the power of written engagement, this book of postcards invites civic involvement and makes a special gift for activists, comics fans, and collectors alike.
About the Contributors:
John Lewis is the United States Representative for Georgia's Fifth Congressional District and an American icon widely known for his role in the civil rights movement.
Andrew Aydin currently serves as the digital director and policy advisor to Congressman Lewis in Washington, D.C.
Nate Powell is an award-winning graphic novelist living in Bloomington, Indiana.