---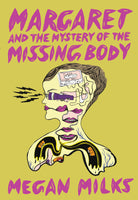 by Megan Milks
09/14/2021, paperback
Amethyst Editions
SKU: 9781952177804
Meet Margaret. At age twelve, she was head detective of the mystery club Girls Can Solve Anything. Margaret and her three best friends led exciting lives solving crimes, having adventures, and laughing a lot. But now that she's entered high school, the club has disbanded, and Margaret is unmoored -- she doesn't want to grow up, and she wishes her friends wouldn't either. Instead, she opts out, developing an eating disorder that quickly takes over her life. When she lands in a treatment center, Margaret finds her path to recovery twisting sideways as she pursues a string of new mysteries involving a ghost, a hidden passage, disturbing desires, and her own vexed relationship with herself. Margaret and the Mystery of the Missing Body reimagines nineties adolescence -- mashing up girl group series, choose-your-own-adventures, and chronicles of anorexia -- in a queer and trans coming-of-age tale like no other. An interrogation of girlhood and nostalgia, dysmorphia and dysphoria, this debut novel puzzles through the weird, ever-evasive questions of growing up.
Reviews:
"Girl detectives, adolescent angst, all soundtracked to Fiona Apple--Milks's first novel is a mid-'90s marvel, one that acutely captures the surreal Tidal-wave of teenage emotions and the "private heat" of girlhood." -- Oprah Daily
"As much a joyful romp as it is a serious exploration of coming of age (no matter how old you are), mental illness, and identity... A page-turner." -- Shondaland
"A delightfully weird and very queer reimagining of 90s YA nostalgia." -- Autostraddle
"Lambda-nominated Megan Milks has knocked this coming-of-age meditation out of the park, blending magical realism with tween nostalgia and teen angst, resulting in a totally accurate-feeling account of the chaos of growing up." -- Booklist, starred review
"Emotionally complex and illuminating" -- Publishers Weekly
"Margaret and the Mystery of the Missing Body is queer dynamite. I devoured this book in one sitting, completely engrossed by the wild plot and by Megan Milks's stellar, singular voice. This is a book of bodies, sure, but it's also a book about the messiness of them, their complications and intractability, their frustrating unknowability. Their mutability. Their wonder. This novel is a bright spot of brilliance. I absolutely adored it." -- Kristen Arnett, author of Mostly Dead Things
About the Author:

Megan Milks is the author of Kill Marguerite and Other Stories (2014), forthcoming from Feminist Press in revised and expanded form as Slug and Other Stories, and Remember the Internet: Tori Amos Bootleg Webring. With Marisa Crawford, they are coeditor of We Are the Baby-Sitters Club: Essays and Artwork from Grown-Up Readers; with KJ Cerankowski, they are coeditor of Asexualities: Feminist and Queer Perspectives. Born in Virginia, they currently live in Brooklyn.