---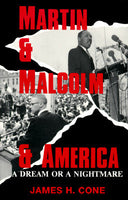 by James H. Cone
Orbis Books
1991, 2012, paperback
SKU: 9781570759796
This ground–breaking and highly acclaimed work examines the two most influential African-American leaders of the past century. While Martin Luther King, Jr., saw America as "essentially a dream . . . as yet unfulfilled," Malcolm X viewed America as a living nightmare. James Cone cuts through superficial assessments of King and Malcolm as polar opposites to reveal two men whose visions were complementary and moving toward convergence.
"White as well as Black Americans are in the debt of James Cone, whose important book will revise and refocus the legacies of King and Malcolm X."—The New York Times Book Review
"Cone gives insight in what I've always felt was shared by these two widely opposite-imaged men: that either could so easily have been the other."—Alex Haley
"An immensely valuable, landmark analysis by a scholar uniquely qualified to interpret both King and Malcolm X."—David J. Garrow
James H. Cone is Charles A. Briggs Distinguished Professor of Systematic Theology at Union Theological Seminary in New York. His other books include A Black Theology of Liberation (40th Anniversary ed. 2010), God of the Oppressed (Rev., 1997), The Spirituals and the Blues (1971), and The Cross and the Lynching Tree (2011).