---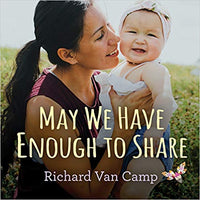 by Richard Van Camp
Orca Book Publishers
10/1/2019, board book
SKU: 9781459816244
Award-winning author Richard Van Camp wrote this book to express his gratitude for all that surrounds him and his family. The strength of their connections, the nature that provides for them, the love that is endless. Complemented by photos from photographers who celebrate their own gratefulness on the collective blog Tea & Bannock, the simple verse in May We Have Enough to Share is the perfect way to start or end your little one's days in gratitude.
Reviews:
"A wonderful testament to beginning and ending each day with a sense of gratitude."--Canadian Children's Book News
"Children will find both the text and photographs comforting and warm. The photographs are excellent! The author and photographers are indigenous and their message is inclusive and always positive, encompassing a gratitude for life, family and the beauty of nature."--Resource Links
"A triumph indeed and one indispensable to school, public, nursery, and home libraries everywhere!"--CM: Canadian Review of Materials
Author:
Richard Van Camp is a proud member of the Tlicho Dene Nation from Fort Smith, Northwest Territories. A graduate of the En'owkin International School of Writing, the University of Victoria's BFA in Creative Writing program and the MFA in Creative Writing at the University of British Columbia, Richard is the author of over twenty books in just about every genre, including Little You and Welcome Song for Baby. His novel The Lesser Blessed is now a movie with First Generation Films.