---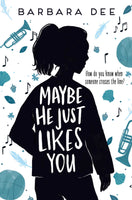 by Barbara Dee
Aladdin Paperbacks
9/15/2020, paperbacks

SKU: 9781534432383
Barbara Dee explores the subject of #MeToo for the middle grade audience in this heart-wrenching--and ultimately uplifting--novel about experiencing harassment and unwanted attention from classmates.
For seventh-grader Mila, it starts with some boys giving her an unwanted hug on the school blacktop. A few days later, at recess, one of the boys (and fellow trumpet player) Callum tells Mila it's his birthday, and asks her for a "birthday hug." He's just being friendly, isn't he? And how can she say no? But Callum's hug lasts a few seconds too long, and feels...weird. According to her friend, Zara, Mila is being immature and overreacting. Doesn't she know what flirting looks like?
But the boys don't leave Mila alone. On the bus. In the halls. During band practice--the one place Mila could always escape.
It doesn't feel like flirting--so what is it? Thanks to a chance meeting, Mila begins to find solace in a new place: karate class. Slowly, with the help of a fellow classmate, Mila learns how to stand her ground and how to respect others--and herself.
From the author of Everything I Know About You, Halfway Normal, and Star-Crossed comes this timely story of a middle school girl standing up and finding her voice.
Reviews:
"The novel's all-too-familiar scenario offers a springboard for discussion among middle schoolers about Mila's experience, as well as her confusion, fear, and reluctance to discuss her situation with authority figures. Easily grasped scenarios and short chapters help make this timely #MeToo story accessible to a wide audience." -- Publisher's Weekly, STARRED REVIEW
"This timely exploration of a depressingly common experience should begin some useful conversations." -- Kirkus Reviews
"Mila's struggle between denying the intentions of her classmates and being self-aware and upset about their treatment of her is realistic and heartbreaking . . . an excellent choice to inspire conversations about the prevalence and scope of what's considered sexual harassment, as well as help young readers identify what harassment could look like in their peers." -- BCCB
"An important read with great potential for classroom use. Mila's experience may resonate with young readers, who may need to follow up with a trusted adult." -- SLJ
"Important for its relevance and examination of the otherwise little-discussed topic of sexual harassment among younger teens, Maybe He Just Likes You will appeal to middle-grade readers as well as parents and educators seeking to bolster a child's awareness of this rampant problem." -- Booklist
Author:
Barbara Dee is the author of several middle grade novels including Maybe He Just Likes You, Everything I Know About You, Halfway Normal, and Star-Crossed. Her books have received several starred reviews and been included on many best-of lists, including the ALA Rainbow List Top Ten, the Chicago Public Library Best of the Best, and the NCSS-CBC Notable Social Studies Trade Books for Young People. Star-Crossed was also a Goodreads Choice Awards finalist. Barbara is one of the founders of the Chappaqua Children's Book Festival. She lives with her family, including a naughty cat named Luna and a sweet rescue hound dog named Ripley, in Westchester County, New York.