---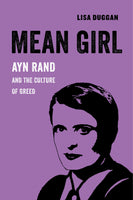 by Lisa Duggan
University of California Press
5/21/2019, paperback
SKU: 9780520294776
Ayn Rand's complicated notoriety as popular writer, leader of a political and philosophical cult, reviled intellectual, and ostentatious public figure followed her beyond her death in 1982. In the twenty-first century, she has been resurrected as a serious reference point for mainstream figures, especially--but not only--those on the political right from Paul Ryan to Donald Trump.
Mean Girl traces the posthumous appeal and influence of Rand's novels via her cruel, surly, sexy heroes, outlining the impact of her philosophy of selfishness. Following Rand's trail through the twentieth century from the Russian Revolution to the Cold War, Mean Girl illuminates the Randian shape of our neoliberal, contemporary culture of greed and the dilemmas we face in our political present.
Number 8 in the University of California Press series American Studies Now: Critical Histories of the Present.
Reviews:
"With Mean Girl, Lisa Duggan offers readers a history of how greed and capitalist accumulation were made cool and sexy. In a historical moment in which billionaires have been refashioned into super-beings, Duggan's history of this libertarian matriarch provides a necessary and eye-opening intervention."--Roderick Ferguson, author of One-Dimensional Queer and We Demand

"Reading Lisa Duggan's Mean Girl is an exercise in emotional upheaval. One minute I was laughing out loud, the next crying into my tea, and then finally feeling confident that human beings cannot allow the suffocation of Ayn Rand's thinking to get to us. It is a terrific book only partly about Rand, because it is really an intellectual history of neoliberalism--and its toxic outcomes."--Vijay Prashad, Director, Tricontinental: Institute for Social Research, author of The Poorer Nations and The Darker Nations.

About the Author:
Lisa Duggan is a historian, journalist, activist, and Professor of Social and Cultural Analysis at New York University. She is the author of The Twilight of Equality? Neoliberalism, Cultural Politics, and the Attack on Democracy.