---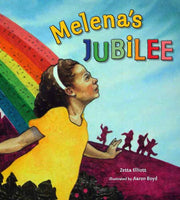 by Zetta Elliott, Illustrated by Aaron Boyd
Tilbury House Publishers
11/8/2016, hardcover
SKU: 9780884484431
Forgive and be forgiven. It sounds so appealing--so why doesn't it happen every day? Finding herself forgiven on a rain-scrubbed morning after a difficult day, Melena seizes her fresh start and shares the song in her heart with her family and friends. It's a day of new beginnings. It's Melena's jubilee.
Reviews:
"This is a great reminder to children of the joys that kindness, generosity, and grace can bring to you. Instead of forcing her way through the day, Melena considers others first and treats the day as a fresh start, putting all her problems from yesterday behind her. Recommended for one-on-one reading with older pre-readers, or for independent reading for young readers. The seven tips to your own Fresh Start Day are a nice addition, as is the author's note on the significance of the concept of jubilee in African-American history and the importance of debt relief to struggling peoples and nations. "--Jessica Rodrigues
About the Contributors:
Born in Canada, Zetta Elliott (Brooklyn, NY) moved to the US in 1994 to pursue her PhD in American Studies at NYU. Her poetry has been published in several anthologies, and her plays have been staged in New York, Chicago, and Cleveland. Her essays have appeared in The Huffington Post, School Library Journal, and Publishers Weekly. She is the author of more than twenty books for young readers, including the award-winning picture book Bird. Her urban fantasy novel Ship of Souls was named a Booklist Top Ten Sci-fi/Fantasy Title for Youth. Three books published under her own imprint, Rosetta Press, have been named Best Children's Books of the Year by the Bank Street Center for Children's Literature. Elliott is an advocate for greater diversity and equity in publishing.
Aaron Boyd is the illustrator of 25 children's books including Luigi and the Barefoot Races, Babu's Song, Daddy Goes to Work, and the Panda Goes to School series. His pop-up Storybook Year won a Clio Top 4 award and was inducted into the Smithsonian Rare Books collection. He has also received Children's Africana Book, Choices Sports, Notable Children's Book, and Hermes Creative awards, and his advertising graphics have received Addy Gold and Graphis awards.