---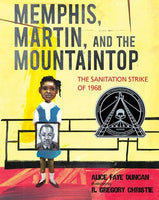 by Alice Faye Duncan, Illustrated by Gregory R. Christie
Calkins Creek Books
8/28/2018, hardcover
SKU: 9781629797182
This historical fiction picture book presents the story of nine-year-old Lorraine Jackson, who in 1968 witnessed the Memphis sanitation strike--Dr. Martin Luther King Jr.'s final stand for justice before his assassination--when her father, a sanitation worker, participated in the protest.
In February 1968, two African American sanitation workers were killed by unsafe equipment in Memphis, Tennessee. Outraged at the city's refusal to recognize a labor union that would fight for higher pay and safer working conditions, sanitation workers went on strike. The strike lasted two months, during which Dr. Martin Luther King Jr. was called to help with the protests. While his presence was greatly inspiring to the community, this unfortunately would be his last stand for justice. He was assassinated in his Memphis hotel the day after delivering his I've Been to the Mountaintop sermon in Mason Temple Church. Inspired by the memories of a teacher who participated in the strike as a child, author Alice Faye Duncan reveals the story of the Memphis sanitation strike from the perspective of a young girl with a riveting combination of poetry and prose.
Reviews:
"The boldly colored, vivid illustrations add to the meaning of the story. The book could be read many times and new information would be discovered with each new reading....(T)he author uses descriptive words that make this book excellent to use as a mentor text for writing. Each choice in diction conjures a specific meaning and acts as the perfect word to help the reader picture and feel what is happening in the story." -- School Library Connection
"Duncan writes in fervent free verse...(the) narrative is passionate and personal...Christie's vivid, emotive gouache paintings feature a montage of powerful panoramas and portraits." - Publishers Weekly

About the Contributors:
Alice Faye Duncan is the author of multiple children's books, including Honey Baby Sugar Child, which received an NAACP Image Award Nomination for Outstanding Literary Work for Children.
R. Gregory Christie has illustrated more than fifty books for young adults and children. His work has won a Caldecott Honor, a New York Times 10 Best Illustrated Children's Books of the Year Award (two times), the Coretta Scott King Honor in Illustration (three times), the NAACP's Image Award, the Boston Globe-Horn Book Award, and the Theodor Seuss Geisel Award. He currently operates his store of autographed children's books, GAS-ART Gifts, in Decatur, Georgia. Visit gas-art.com.