---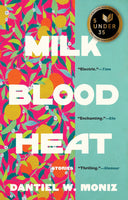 by Dantiel W. Moniz
Grove Press
2/8/2022, paperback
SKU: 9780802159441
A livewire debut from Dantiel W. Moniz, one of the most exciting discoveries in today's literary landscape, Milk Blood Heat depicts the sultry lives of Floridians in intergenerational tales that contemplate human connection, race, womanhood, inheritance, and the elemental darkness in us all.
Set among the cities and suburbs of Florida, each story delves into the ordinary worlds of young girls, women, and men who find themselves confronted by extraordinary moments of violent personal reckoning. These intimate portraits of people and relationships scour and soothe and blast a light on the nature of family, faith, forgiveness, consumption, and what we may, or may not, owe one another.
A thirteen-year-old meditates on her sadness and the difference between herself and her white best friend when an unexpected tragedy occurs; a woman recovering from a miscarriage finds herself unable to let go of her daughter--whose body parts she sees throughout her daily life; a teenager resists her family's church and is accused of courting the devil; servers at a supper club cater to the insatiable cravings of their wealthy clientele; and two estranged siblings take a road-trip with their father's ashes and are forced to face the troubling reality of how he continues to shape them.
Wise and subversive, spiritual and seductive, Milk Blood Heat forms an ouroboros of stories that bewitch with their truth, announcing the arrival of a bright new literary star.
Reviews:
"Mortality is the undercurrent in Dantiel W. Moniz's electrifying debut story collection, Milk Blood Heat, but where there's death there is the whir of life, too... Reading one of Moniz's stories is like holding your breath underwater while letting the salt sting your fresh wounds. It's exhilarating and shocking and even healing. The power in these stories rests in their veracity, vitality and vulnerability." -- Michele Filgate, Washington Post
"Set against the lush and unpredictable backdrop of Florida, these 11 stories present women and girls as we really are: complex, deep, smart, sour, joyful, tough, loving and powerful." -- Karla Strand, Ms. Magazine
"Moniz has won multiple awards for her individual stories, and this excellent debut collection shows why... she nails aching moments of naked human emotion in direct if luscious language... While many story collections suffer from a sameness of theme, character, or plot, that's not a problem here. The tales are generally set in Florida, but the similarities end there; each entry is distinctive in its premise, and each will surprise the reader in a different way. What gives the collection coherence is Moniz's distinctive vision. VERDICT Highly recommended; catch this writer early in her game." -- Barbara Hoffert, Library Journal (starred review)
"Each of the stories in this collection is anchored by Moniz's gorgeous, precise prose... Though they share certain geographic and thematic connections, the tales are quite diverse in their perspectives and casts. What unites them, and what keeps us turning the pages through scenes of trag-edy and self-discovery, rebellion and reconciliation, trauma and agency, is the singular voice guid-ing each character. In nearly every paragraph, Moniz unfurls some new observation that nestles down in your brain and sits, steep-ing like tea leaves, until each story has formed a cohesive, power-ful emotional experience. It's a magical sensation that reveals astonishing talent. Milk Blood Heat is a slim but mighty volume of short fiction, one that announces Moniz as a transfixing voice capable of limn-ing often staggering emotional truths." -- BookPage (starred review)
About the Author:
is the recipient of the Alice Hoffman Prize for Fiction, the Cecelia Joyce Johnson Emerging Writer Award by the Key West Literary Seminars, and a Tin House Scholarship. Her fiction has appeared or is forthcoming in the Paris Review, Tin House, Ploughshares, the Yale Review, Joyland, McSweeney's Quarterly Concern, and elsewhere. Milk Blood Heat is her first book. Moniz is an Assistant Professor at the University of Wisconsin-Madison where she teaches fiction. She lives in Northeast Florida.