---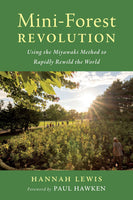 by Hannah Lewis
Chelsea Green Publishing
6/9/2022, paperback
SKU: 9781645021278
For readers who enjoyed Finding the Mother Tree and The Hidden Life of Trees comes the first-ever book about a movement to restore biodiversity in our cities and towns by transforming empty lots, backyards, and degraded land into mini-forests. Author Hannah Lewis is the forest maker turning asphalt into ecosystems to save the planet and she wants everyone to know they can do it too.
In Mini-Forest Revolution, Lewis presents the Miyawaki Method, a unique approach to reforestation devised by Japanese botanist Akira Miyawaki. She explains how tiny forests as small as six parking spaces grow quickly and are much more biodiverse than those planted by conventional methods. She explores the science behind why Miyawaki-style mini-forests work and the myriad environmental benefits, including: cooling urban heat islands, establishing wildlife corridors, building soil health, sequestering carbon, creating pollinator habitats, and more.
Today, the Miyawaki Method is witnessing a worldwide surge in popularity. Lewis shares the stories of mini-forests that have sprung up across the globe and the people who are planting them―from a young forest along the concrete alley of the Beirut River in Lebanon, to a backyard forest planted by tiny-forest champion Shubhendu Sharma in India.
This inspiring book offers a revolutionary approach to planting trees and a truly accessible solution to the climate crisis that can be implemented by communities, classrooms, cities, clubs, and families everywhere.
Reviews:
"My late friend and colleague, Professor Akira Miyawaki, wanted nothing more than to repair the forests of the world. He wanted trees in the ground, as do I. This book would make him happy." -- Diana Beresford-Kroeger, author of To Speak for the Trees
"We cannot solve problems by succumbing to fear and anger, and yet so much of the climate conversation is powered by the fearful narrative of a dying planet. In Mini-Forest Revolution, Hannah Lewis offers a different story--one that is authentic, honest, and powered by love. Her writing provides the inspiration, motivation, and recipe for working with nature rather than against it; for gathering our courage and creating the world we imagine." -- Shubhendu Sharma, founder and director of Afforestt
About the Author:
Hannah Lewis is the editor of Compendium of Scientific and Practical Findings Supporting Eco-Restoration to Address Global Warming, published by Biodiversity for a Livable Climate, a nonprofit environmental organization based in Cambridge, Massachusetts. She has worked in various roles related to building sustainable food systems, including as the Midwest regional director for the National Center for Appropriate Technology. She has an MS in Sustainable Agriculture and Sociology from Iowa State University and a BA in Environmental Studies from Middlebury College. Born and raised in the Minneapolis, Minnesota, she lived in France with her partner and their two children during the writing of this book.