---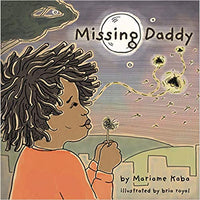 by Mariame Kaba, illustrated by Bria Royal
Haymarket Books
9/17/2019, hardcover
SKU: 9781642590364
A little girl who misses her father because he's away in prison shares how his absence affects different parts of her life. Her greatest excitement is the days when she gets to visit her beloved father. With gorgeous illustrations throughout, this book illuminates the heartaches of dealing with missing a parent.
Reviews:

"In this sensitive and candid story, a child narrator explores the emotions she feels surrounding her father's incarceration. Royal's art has a spare, warm quality, with loose ink outlines and splashes of light pastel and citrus tones in the characters' clothing and surroundings. Educator Kaba addresses the experiences related to parental incarceration head-on while emphasizing that there are a lot of different ways to be a family."--PUBLISHERS WEEKLY
"Charming and heart-wrenching details in the flights of fireflies, bordered pictures in a photo album, and even the expression of the little girl when a classmate whispers, 'You know your daddy's a criminal so that makes you one, ' highlight the angst and resilience of the little girl. This straightforward consideration of children affected by the imprisonment of family members is necessary." --KIRKUS REVIEWS
"This book is a crucial tool for parents, educators, and anyone who cares about the well-being of children who, through no fault of their own, are forced to bear the consequences of our country's obsession with incarceration. For children who desperately miss their parents, feel confused, or are teased at school, this book can go a long way in letting them know that they are not alone and in normalizing their experiences." --Eve L. Ewing
Authors:

Mariame Kaba is an educator and organizer based in New York City. She has been active in the anti-criminalization and anti-violence movements for the past 30 years. Mariame is the founder and director of Project NIA, a grassroots organization with a long-term vision to end youth incarceration.
bria royal is multidisciplinary artist from Chicago. She considers her animation, comics, paintings and zines to be the result of a radical healing process that she hopes others will benefit from seeing unfold. Much of her work centralizes on Black and brown imaginations and womxnhood, femininity and gender fluidity through a lens of eco-feminism, afro-futurism and contemporary mythology.