---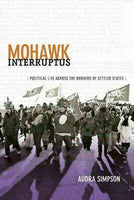 by Audra Simpson
Duke University Press
5/9/2014, paperback
SKU: 9780822356554
Mohawk Interruptus is a bold challenge to dominant thinking in the fields of Native studies and anthropology. Combining political theory with ethnographic research among the Mohawks of Kahnawà ke, a reserve community in what is now southwestern Quebec, Audra Simpson examines their struggles to articulate and maintain political sovereignty through centuries of settler colonialism. The Kahnawà ke Mohawks are part of the Haudenosaunee or Iroquois Confederacy. Like many Iroquois peoples, they insist on the integrity of Haudenosaunee governance and refuse American or Canadian citizenship.
Audra Simpson thinks through this politics of refusal, which stands in stark contrast to the politics of cultural recognition. Tracing the implications of refusal, Simpson argues that one sovereign political order can exist nested within a sovereign state, albeit with enormous tension around issues of jurisdiction and legitimacy. Finally, Simpson critiques anthropologists and political scientists, whom, she argues, have too readily accepted the assumption that the colonial project is complete. Belying that notion, Mohawk Interruptus calls for and demonstrates more robust and evenhanded forms of inquiry into indigenous politics in the teeth of settler governance.
Reviews:
"This brilliant ethnographic and political study of how the Mohawks of Kahnawà ke live and enact their sovereign nationhood and refuse incorporation is a masterpiece. It challenges and transforms the way Indigenous politics is studied in Anthropology and Political Science and deserves the widest possible readership." -James Tully, author of Public Philosophy in a New Key, Two Volumes
"[A] tour de force exploration of contemporary Kahnawa: ke political life. . . . In its examination and sustained critique of the settler colonialism and the politics of nationhood, recognition, and refusal, and its vision of more productive and inclusive understandings of Kahnawa: ke citizenship, Mohawk Interruptus joins some of the most provocative and cutting-edge work taking place in Native/indigenous studies today. We would be wise to heed its challenge to develop similarly rigorous and critical studies of indigenous self-determination throughout the hemisphere, in whatever forms they might take." -Kirby Brown, American Indian Culture and Research Journal
"This marvelous book is a searing exposition of a Kahnawà ke Mohawk subjectivity hardened in opposition to social 'facts' taken for granted by millions in settler societies. . . . Readers will appreciate Simpson's passionately argued and provocative thesis, in-depth and intimate ethnographic descriptions, incisive prose, and iconoclastic engagements with anthropological history and political theory." -Nicholas Copeland, North American Dialogue
About the Author:
Audra Simpson is Assistant Professor of Anthropology at Columbia University. She is a coeditor, with Andrea Smith, of Theorizing Native Studies, also published by Duke University Press.