---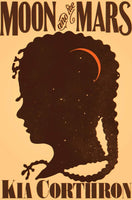 by Kia Corthron
Seven Stories Press
8/31/2021, hardcover
SKU: 9781644211038
An exploration of NYC and America in the burgeoning moments before the start of the Civil War through the eyes of a young, biracial girl--the highly anticipated new novel from the winner of the Center for Fiction's First Novel Prize.
In Moon and the Mars, set in the impoverished Five Points district of New York City in the years 1857-1863, we experience neighborhood life through the eyes of Theo from childhood to adolescence, an orphan living between the homes of her Black and Irish grandmothers. Throughout her formative years, Theo witnesses everything from the creation of tap dance to P.T. Barnum's sensationalist museum to the draft riots that tear NYC asunder, amidst the daily maelstrom of Five Points work, hardship, and camaraderie. Meanwhile, white America's attitudes towards people of color and slavery are shifting--painfully, transformationally--as the nation divides and marches to war.
As with her first novel, The Castle Cross the Magnet Carter, which was praised by Viet Thanh Nguyen, Robin D.G. Kelley, and Angela Y. Davis, among many others, Corthron's use of dialogue brings her characters to life in a way that only an award-winning playwright and scriptwriter can do. As Theo grows and attends school, her language and grammar change, as does her own vocabulary when she's with her Black or Irish families. It's an extraordinary feat and a revelation for the reader.  
Reviews:
"Corthron, a true heir to James Baldwin, presents a startlingly original exposure of the complex roots of American racism." -- Naomi Wallace, MacArthur Genius Playwriting Fellow and author of One Flea Spare
"Moon and the Mars, [Corthron's] latest masterpiece, is an absorbing story of family and community, of Africans and Irish, of settler and native, of slavery and abolition, of a city and a nation wracked by Civil War and racist violence, of love won and lost." --Robin D. G. Kelley, author of Thelonious Monk: The Life and Times of an American Original
"In the native language of the colonized Irish Gael, the proverb Ar scáth a chéile a mahireann na daoine tells us it's in the shelter of each other that the people survive. In Moon and the Mars, Kia Corthron has channeled the Seanchaí and the Griot, using beautifully rendered, gripping storytelling to resurrect histories too often disappeared. You will fall in love with Theo, a Black and Irish child who embodies her histories, as she takes you by the hand, guiding you through a mid-19th Century Manhattan landscape of community, solidarity, class manipulations, and racist violence. And you'll tear through these streets and pages of joy and heartbreak full tilt, emerging with a renewed call to solidarity--for all our survival." -- Michael Patrick MacDonald, bestselling author of All Souls: A Family Story from Southie and Easter Rising: A Memoir of Roots and Rebellion
About the Author:
Kia Corthron's debut fiction, The Castle Cross the Magnet Carter, was the winner of the 2016 Center for Fiction First Novel Prize and a New York Times Book Review Editor's Choice. She was the 2017 Bread Loaf Shane Stevens Fellow in the Novel. She is also a nationally and internationally produced playwright. For her body of work for the stage, she has garnered the Windham Campbell Prize for Drama, the Horton Foote Prize, the United States Artists Jane Addams Fellowship, the Flora Roberts Award, and others. She was born and raised in Cumberland, Maryland, and lives in Harlem, New York City.