---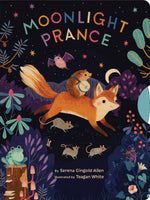 by Serena Gingold Allen, Illustrated by Teagan White
Chronicle Books
4/5/2022, board book
SKU: 9781452174068
In this sweet and interactive bedtime read-aloud--with the rollicking rhyme of Sandra Boynton's Barnyard Dance! and the bedtime themes of Sleep Like A Tiger by Mary Logue--young readers can make skunks scamper and possums prance with each push of a durable novelty element.
When you rest your head at night, nocturnal animals awake to dance and play! Push and pull the sturdy tabs to make foxes frolic and hedgehogs hustle in this sweet, interactive tale of nighttime fun.
A charming and interactive bedtime read-aloud, young children will delight in moving the durable novelty elements, making the illustrations transform through their efforts.
Target age: 0 to 2
Reviews:

"This whimsically illustrated, interactive board book follows an array of nocturnal creatures as they play and party the night away... Sturdily constructed, the book features pull tabs and sliding panels just right for little hands. Look for the companion title, Sunrise Dance, as well." -- Booklist
About the Contributors:
Serena Allen was up late one night with her infant son and wondered, "Who else is awake right now? I can't be the only one who's not sleeping." And once her son was back in her crib she wrote the first lines of this book. Growing up outside of Yosemite, Serena had many close encounters with wildlife. She now lives in the San Francisco Bay Area, but she still spends a lot of time hiking and climbing in the great outdoors with her husband and their two children.
Teagan White explores the wonders of the natural world and the friendly creatures who live in it through picture books, stationery, puzzles, fabric, and beyond. Teagan lives in Oregon with their partner and stepdaughter, where they like to ride bikes, adventure in the woods, spy on raccoons in their backyard, and visit seagulls at the beach.