---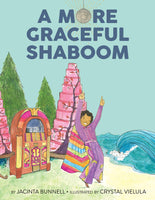 by Jacinta Bunnell, Illustrated by Crystal Vielula
PM Press
11/2/20, hardcover
SKU: 9781629638249
A gender nonbinary protagonist named Harmon Jitney finds their joy and purpose in a magical satchel which leads to an extraordinary, previously undiscovered universe. This book features LGBTQAI+ characters seamlessly woven into a delightful, imagination-sparking story, without overtly being a lesson book about gender and sexual orientation.
Target age: 5 to 7
About the Contributors:
Jacinta Bunnell is the author of five coloring books with PM Press/Reach and Teach, including Sometimes the Spoon Runs Away with Another Spoon, Girls Are Not Chicks, and The Big Gay Alphabet Coloring Book. She is a visual artist, writer, and educator living in the Hudson Valley, NY. For close to two decades, Jacinta has been making media for young readers that challenges heteronormative gender stereotypes.
Crystal Vielula is a San Francisco-based artist, muralist, and art educator. She works with a variety of different media, including but not limited to collage, painting, pen and ink, acrylic, and textiles. She is currently diving into the world of experimental film and performance.