---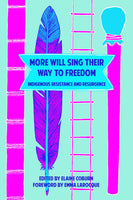 Edited by Elaine Coburn
Fernwood Publishing
10/30/2015, paperback
SKU: 9781552667804
More Will Sing Their Way to Freedom is about Indigenous resistance and resurgence across lands and waters claimed by Canada. Both Indigenous and non-Indigenous contributors describe and analyze struggles against contemporary colonialism by the Canadian state and, more broadly, against the global colonial-capitalist system. Resistance includes Indigenous survival against centuries of genocidal policies and the on-going dispossession and destruction of Indigenous lands and waters. Resurgence is the re-invention of diverse Indigenous ways of being, knowing and doing in politics, economics, the arts, research and all realms of life.
The underlying argument of More Will Sing Their Way to Freedom is that colonial-capitalism is a historical fact but not an inevitability. By analyzing and detailing various forms of Indigenous resistance and resurgence, the authors here describe practices and visions that prefigure a possible world where there is justice for Indigenous peoples and renewed healthy relationships with "all our relations."
About the Contributors:
Elaine Coburn is a researcher in sociology at the American University of Paris and at the Centre d'analyse et d'intervention sociologiques (CADIS) at the Ecole des Hautes Etudes en Sciences Sociales (EHESS) in Paris, France. She was formerly the editor of the peer-reviewed, interdisciplinary online journal Socialist Studies.
Emma LaRocque is a scholar, writer, poet and professor in the Department of Native Studies, University of Manitoba.