---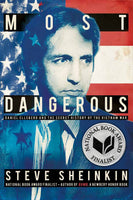 by Steve Sheinkin
Roaring Brook Press
9/22/2015, hardcover
SKU: 9781596439528
From Steve Sheinkin, the award-winning author of The Port Chicago 50 and Newbery Honor Book Bomb comes a tense, narrative nonfiction account of what the Times deemed "the greatest story of the century": how whistleblower Daniel Ellsberg transformed from obscure government analyst into "the most dangerous man in America," and risked everything to expose years of government lies during the Nixon / Cold War era.
On June 13, 1971, the front page of the New York Times announced the existence of a 7,000-page collection of documents containing a secret history of the Vietnam War. Known as The Pentagon Papers, these files had been commissioned by Secretary of Defense Robert McNamara. Chronicling every action the government had taken in the Vietnam War, they revealed a pattern of deception spanning over twenty years and four presidencies, and forever changed the relationship between American citizens and the politicians claiming to represent their interests. The investigation that resulted--as well as the attempted government coverups and vilification of the whistleblower--has timely relevance to Edward Snowden's more recent conspiracy leaks.
A provocative and political book that interrogates the meanings of patriotism, freedom, and integrity, Most Dangerous further establishes Steve Sheinkin as a leader in children's nonfiction.