---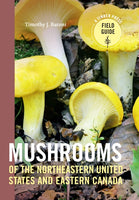 by Timothy J. Baroni
Timber Press
7/12/2017, paperback
SKU: 9781604696349
A must-have for mushroom hunters in the northeast
The Northeast is one of the best places to find mushrooms; they are both abundant and spectacularly diverse. Mushrooms of the Northeastern United States and Eastern Canada is a compact, beautifully illustrated guide packed with descriptions and photographs of more than 500 of the region's most conspicuous, distinctive, and ecologically important mushrooms.
Covers Connecticut, Delaware, Illinois, Indiana, Maine, Massachusetts, Minnesota, New Hampshire, New Jersey, New York, Ohio, Pennsylvania, Rhode Island, Vermont, Wisconsin, and the Canadian provinces of New Brunswick, Newfoundland, Ontario, and most of Quebec
More than 550 superb color photographs
Helpful keys for identification
Clear, color-coded layout
An essential reference for mushroom enthusiasts, hikers, and naturalists
Reviews:
"This volume is a clear and impressive standout which can be recommended without reservation. . . . It deserves to become a standard reference and will doubtless soon be seen as a faithful companion volume on forays throughout its target area." -- Long Island Mycological Club​
"Excellent descriptions, taxonomic synonyms, [and] habitat descriptions." -- Choice
About the Author:
Timothy J. Baroni is a Distinguished Professor of Biology at the State University of New York. He teaches at SUNY-College at Cortland and works on biodiversity research of macrofungi globally with emphasis on mushrooms and other fungi found in the Americas. He is the author or co-author of three books and many peer-reviewed articles on taxonomy of macrofungi. Baroni has described 95 new species and varieties of macrofungi, served as president of the Mycological Society of America, and received numerous awards from the State University of New York for teaching and research. He was recently selected for the Distinguished Mycologist Award given by the Mycological Society of America.