---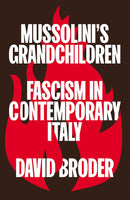 by David Broder
Pluto Press
3/20/2023, paperback
SKU: 9780745348025
The fastest-rising force in Italian politics is Giorgia Meloni's Fratelli d'Italia - a party with a direct genealogy from Mussolini's regime. Surging to prominence in recent years, it has waged a fierce culture war against the Left, polarised political debate around World War II, and even secured the largest vote share in Italy's 2022 general election. Eighty years after the fall of Mussolini, his heirs, and admirers are again on the brink of taking power. So how exactly has this situation come about?
Mussolini's Grandchildren delves into Italy's self-styled 'post-fascist' movements - rooted in historical fascism yet claiming to have 'transcended' it. David Broder highlights the reinventions of far-right politics since the Second World War and examines the interplay between a parliamentary face aimed at integrating fascists into the mainstream and militant fringe groups which, despite their extremism, play an important role in nurturing the broader far right.
Fratelli d'Italia has retained its hegemony over fascist subcultures whilst embracing a raft of more pragmatic policy positions, fusing harsh Islamophobia and anti-communism with support for the European Union and NATO. As countervailing anti-fascist forces in Italian society wane, the far-right party's mission to redeem historical fascism, legitimize its political heirs, and shift the terrain of mainstream politics is proving alarmingly successful.
Reviews:
"A very important book that should be read by anyone concerned about the resurgence of far-right and (post)fascist politics... Provides a compelling historical account to illuminate the contemporary situation in Italy and ties it powerfully to the wider turn towards reaction. Broder succeeds in mapping how ideas we have been told which were relegated to the dustbin of history have made their return to the mainstream. Extremely accessible and engaging" -- Aurelien Mondon, Co-author of Reactionary Democracy: How Racism and the Populist Far Right Become Mainstream

"Deep historical knowledge and acute political analysis are combined in the first book explaining the rise of a post-fascist government in the land of Mussolini. While offering an evocative and unsparing fresco of recent Italian history, Broder provides the tools to understand the far right in power in democratic countries" -- Donatella di Cesare, Italian Philosopher

"Meticulously researched and engagingly written by an author with a longstanding knowledge of Italy and interest in its politics and culture. This is a must read for all those who want to understand what is happening in the country and what may soon happen elsewhere" -- Paolo Gerbaudo, Reader in Digital Politics, Department of Digital Humanities, King's College London
About the Author:
David Broder is a historian of the Italian far-right. He is a regular contributor to the New Statesman and Internazionale, writing about Italian politics, as well as Europe editor for Jacobin. His writing has also appeared in the New York Times, the Guardian, the Independent, New Left Review and Tribune. He is the author of The Rebirth of Italian Communism: Dissident Communists in Rome, 1943-44 and First They Took Rome: How the Populist Right Conquered Italy, and translator of Workers and Capital.