---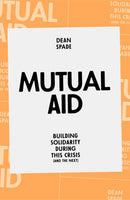 by Dean Spade
Verso
10/27/2020, paperback
SKU: 9781839762123
Mutual aid is the radical act of caring for each other while working to change the world.
Around the globe, people are faced with a spiralling succession of crises, from the Covid-19 pandemic and climate change-induced fires, floods, and storms to the ongoing horrors of mass incarceration, racist policing, brutal immigration enforcement, endemic gender violence, and severe wealth inequality. As governments fail to respond to--or actively engineer--each crisis, ordinary people are finding bold and innovative ways to share resources and support the vulnerable.
Survival work, when done alongside social movement demands for transformative change, is called mutual aid.
This book is about mutual aid: why it is so important, what it looks like, and how to do it. It provides a grassroots theory of mutual aid, describes how mutual aid is a crucial part of powerful movements for social justice, and offers concrete tools for organizing, such as how to work in groups, how to foster a collective decision-making process, how to prevent and address conflict, and how to deal with burnout.
Writing for those new to activism as well as those who have been in social movements for a long time, Dean Spade draws on years of organizing to offer a radical vision of community mobilization, social transformation, compassionate activism, and solidarity.
Reviews:
"I cheered after I read this book. Finally, we have an accessible mutual aid primer to ground our work in this current challenging yet invigorating moment. I'm giving copies of this book to everyone I know. You should too."  --Mariame Kaba, founder and director of Project NIA
"Peter Kropotkin called mutual aid a 'factor in evolution.' The Black Panther Party called it 'survival pending revolution.' Dean Spade tells us that mutual aid is fundamental to making revolution. It is about building solidarity, preparing for battle, and creating a culture of collective care to displace the atomizing culture of individualism and the market. An indispensable guide for our moment, this book teaches us that effective social movements are impossible without mutual aid. Read every page. Carry it everywhere. Share it with everyone. Change everything." --Robin D. G. Kelley, author of Freedom Dreams: The Black Radical Imagination
"We need this book right now! This reads like a how-to manual for modern and future interdependence. Dean walks us through what mutual aid is, best practices, pitfalls, and helps us tap into the wisdom and potential of this strategy for surviving the crises we can anticipate and those that will surprise us. Read this and move from a scarcity/charity mindset to one of abundant solidarity!" --adrienne maree brown, author of Pleasure Activism
About the Author:
Dean Spade is an Associate Professor at Seattle University School of Law, where he teaches courses on policing, imprisonment, gender, race, and social movements. Dean has spent over two decades working in social movements working to end prisons, borders, poverty, and war and support people trying to survive right now. In 2002, Dean founded the Sylvia Rivera Law Project, a non-profit law collective that provides free legal services to transgender, intersex and gender non-conforming people who are low-income and/or people of color, and which operates on a collective governance model. Alongside his book Normal Life: Administrative Violence, Critical Trans Politics, and the Limits of the Law, Dean's writing has appeared in The Chronicle of Higher Education, Out, In These Times, Social Text, and Signs.