---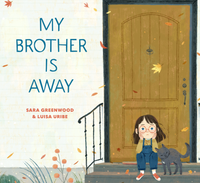 by Sara Greenwood, Illustrated by Luisa Urise
Random House Studio
10/11/2022, hardcover
SKU: 9780593127162
In this moving picture book, a young girl reflects on the emotions and challenges of growing up with a brother who is incarcerated. This touching story is filled with vivid illustrations and is based on the author's childhood experiences.
With her older brother in prison, a young girl copes with the confusing feelings his absence creates. At times she remembers the way her brother would carry her on his shoulders or how he would make up stories to tell her at bedtime. Other times she feels angry and wants to fly so far away that she can forget what happened.
When her Mama and Daddy take her on the 500-mile journey to visit him, a trip she knows not all families are able to make, the girl is excited but also nervous. But the nerves turn to joy when she sees him--everything is different, but everything is the same too. Her brother is not home, but his love hasn't changed.
With words that are spare, gentle, and reassuring, this picture book will help young readers with similar stories feel less alone and give other readers a window into the struggles some children face.
Target age: 5 to 8
Reviews:
"This empathetic book addresses a topic that's relevant to a significant number of children yet rarely covered in children's books." -- Booklist, starred review
"Reminds readers that, for every person who is incarcerated, there is also a family and a community whose lives have also been changed." -- BookPage, starred review
"An accessible, validating narrative about the impact of incarceration within families." -- Kirkus Reviews
About the Contributors:

Sara Greenwood hopes her stories help children feel seen and heard. She wants them to know their emotions count and their experiences matter. Sara is a former teacher who lives with her family in New Mexico.
Luisa Uribe is the illustrator of Areli is a Dreamer, which has received two starred reviews from Kirkus and Booklist. She was awarded the Society of Illustrators Dilys Evans Founder's Award for The Vast Wonder of the World by Melina Mangal. She also illustrated Your Name Is a Song by Jamilah Thompkins-Bigelow, which received a starred review from Kirkus Reviews, describing her work as "dynamic." She lives in Bogotá, Colombia, with her partner and two cats.