---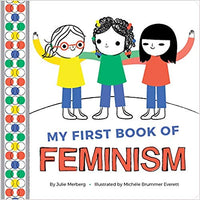 by Julie Merberg and Michéle Brummer Everett (illustrator)
Downtown Bookworks
10/1/2019, board book
SKU: 9781941367940
Equality starts early, and it begins at home.
As soon as girls are big enough to flip through a board book, they can understand the concept that girls are equal to boys. This book underscores that important idea with clear, simple illustrations and clever rhyming text. From encouraging girls to use their voice and to support other girls to showing them that beauty is on the inside to reminding them that no woman is free until all women are free, there are big lessons here, in a small and appealing package.
Authors:
Julie Merberg is the author of many children's books including My First Book of Girl Power, My First Book of Feminism (for Boys), In the Garden with Van Gogh (and the rest of the best-selling Mini Masters series), How is Mona Lisa Feeling?, and My Favorite Shoes. She lives in Manhattan with her husband, the writer David Bar Katz, their four hilarious sons, and a sweet mutt named Alvy Singer.

Michéle Brummer Everett is an illustrator from South Africa. Her published works include My First Book of Feminism, Firehouse: Play-Go-Round (Twirl, 2016), A l'hôpital (Tourbillon, 2017), and Little Helpers: Animals on the Job (Houghton Mifflin Harcourt, 2018). Brummer Everett lives in Utah with her husband and young children.