---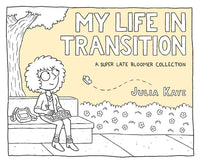 by Julia Kaye
Andrews McMeel Publishing
2/16/2021, paperback
SKU: 9781524860462
The follow-up to the critically acclaimed autobiographical comics collection Super Late Bloomer, documenting transgender artist Julia Kaye's life post-transition.
My Life in Transition is a story that's not often told about trans lives: what happens beyond the early days of transition. Both deeply personal and widely relatable, this collection illustrates six months of Julia's life as an out trans woman--about the beauty and pain of love and heartbreak, struggling to find support from bio family and the importance of chosen family, moments of dysphoria and misgendering, learning to lean on friends in times of need, and finding peace in the fact that life keeps moving forward.
After the nerve-wracking, anxiety-ridden early transition period has ended and the hormones have done their thing, this book shows how you can be trans and simply exist in society. You can be trans and have a successful future. You can be trans and have a normal life full of ups and downs. In our current political and social climate, this hopeful, accessible narrative about trans lives is both entertaining and vital.
About the Author:
Julia Kaye is an award-winning artist and illustrator whose webcomic Up and Out has garnered hundreds of thousands of readers and wide critical praise. Her commitment to activism has led to collaborations with non-profit organizations such as The Trevor Project and Trans Lifeline. Her work has appeared on Webtoon, GoComics, Buzzfeed, and the Disney animated show Big City Greens. Julia lives in Los Angeles.