---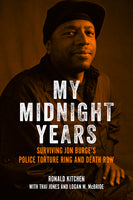 by Ronald Kitchen, Thai Jones, and Logan McBride
Lawrence Hill Books
8/1/2018, hardcover
SKU:  9781613737668
Ronald Kitchen was walking to buy cookies for his young son on a summer evening in 1988 when Chicago detectives picked him up for questioning. As the officers' car headed toward the precinct, the twenty-two-year-old called out the window to his family, "I'll be back in forty-five minutes."
It took him twenty-one years to make it home.
Kitchen was beaten and tortured by notorious police commander Jon Burge and his cronies until finally confessing to a gruesome quintuple homicide he did not commit. Convicted of murder and sentenced to die, he spent the next two decades in prison--including a dozen years on death row--before at last winning his release and exoneration.
Written with passion and defiance, My Midnight Years is more than just a memoir--because Ronald Kitchen's ordeal is not his alone. Kitchen was only one of scores of victims of Jon Burge and his notorious Midnight Crew, a group of rogue police detectives who spent decades terrorizing, brutalizing, and incarcerating men--118 have come forward so far--in Chicago's African American communities.
Overcoming overwhelming difficulties, Kitchen cofounded the Death Row 10 from his maximum security cellblock. Together, these men fought to expose the grave injustices that led to their wrongful convictions. The Death Row 10 appeared on 60 Minutes II, Nightline, Oprah, and Geraldo Rivera and, with the help of lawyers and activists, were instrumental in turning the tide against the death penalty in Illinois. Kitchen was finally exonerated in 2009 and filed a high-profile lawsuit against the Chicago Police
Department, Jon Burge, Mayor Richard Daley, and the Cook County state's attorney.
Kitchen's story is outrageous and heartbreaking. Largely absent from social justice narratives are the testimonies of the victims themselves. The atrocities of the Midnight
Crew were brought to light through Kitchen's actions, and he is a rare survivor who has turned his suffering into a public cause. He is poised to become a powerful spokesperson who will play a major part in the ongoing discussion of institutional racism.
Reviews:
"Decades of police torture and prosecutorial complicity devastated black Chicago and filled Illinois's prisons. In this moving memoir, Ronald Kitchen chronicles what that violence meant for him, his family, and so many others. . . . Don't miss this harrowing, heartbreaking tale of injustice, survival, and resistance." --Dan Berger, author of Captive Nation: Black Prison Organizing in the Civil Rights Era
"Ronald Kitchen's memoir of surviving and resisting racist police torture and thirteen years on death row is maddening and moving. It's hard to read and hard to put down. . . . The full rot of the criminal injustice system is on display here, but Ronnie's stark prose makes us also see the courage and resilience of those on the inside." --Martha Biondi, author of The Black Revolution on Campus and To Stand and Fight
About the Contributors:
Ronald Kitchen was tortured into a false confession and spent two decades in prison. He cofounded the Death Row 10 to fight his conviction and was exonerated in 2009.
Thai Jones is the author of More Powerful than Dynamite and A Radical Line.
Logan McBride has a PhD in American history, specializing in the origins of mass incarceration.