---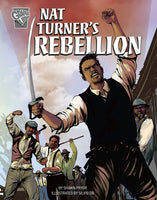 by Shawn Pryor and Silvio Db
Capstone Press
8/1/2020, paperback
SKU: 9781496686855 

Nat Turner, an enslaved black man, believed he was chosen by God to battle against the evils of slavery. Driven by visions, Turner banded with six others, and on August 22, 1831, his rebellion began with attacks at plantations in Southampton, Virginia. As he and his group moved from plantation to plantation, dozens of enslaved men joined them. Finally, the local militia put an end to their movement, arresting and hanging many of the men involved. Nat Turner's rebellion deepened the divide between Americans who wanted to abolish slavery and those who wanted to protect it, setting the groundwork for the American Civil War.
Target age group: 8 to 10
About the Author:
Shawn Pryor is the creator and co-author of the graphic novel mystery series Cash and Carrie, co-creator and author of the 2019 GLYPH-nominated football/drama series Force, and author of Kentucky Kaiju and Jake Maddox: Diamond Double Play. In his free time, he enjoys reading, cooking, listening to streaming music playlists, and talking about why Zack from the Mighty Morphin Power Rangers is the greatest superhero of all time.