---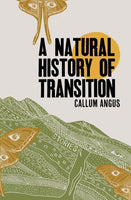 by Callum Angus
Metonymy Press
4/27/2021
SKU: 9781999058876
A Natural History of Transition is a collection of short stories that disrupts the notion that trans people can only have one transformation. Like the landscape studied over eons, change does not have an expiration date for these trans characters, who grow as tall as buildings, turn into mountains, unravel hometown mysteries, and give birth to cocoons. Portland-based author Callum Angus infuses his work with a mix of alternative history, horror, and a reality heavily dosed with magic.
Reviews:
"Callum Angus is one of the younger writers I'm most excited by, with a mind full of marvels and an ear to match. Every story surprises; every sentence strives gorgeously toward music. This is writing as transition, as entrancement, as transcendence." -- Garth Greenwell, author of Cleanness and What Belongs to You
"Reading this slim yet expansive collection is a joyride for the brain, even when it reckons with deep-rooted pain and grief." -- The Seventh Wave
"Progressing through the collection, the sediment of every trans character builds in richness; layers of queer history pile up, jagged and dense. The accumulated layers reveal an intimate cross section--each story a marvelous sample, filled with the glittering gradation of transition." -- Chicago Review of Books
About the Author:

Callum Angus is a trans writer and editor currently based in Portland, Oregon. His work has appeared in Nat. Brut, West Branch, LA Review of Books, Catapult, The Common, Seventh Wave Magazine and elsewhere. He has received support from Lambda Literary and Signal Fire Foundation for the Arts, and he holds an MFA from the University of Massachusetts Amherst. He is the founding editor of the journal smoke and mold. Mostly recently, Cal's writing is featured in the anthology Kink edited by R. O. Kwon, Garth Greenwell.