---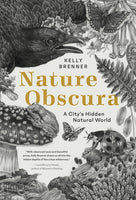 by Kelly Brenner
Mountaineers Books
2/26/2020
SKU: 9781680512076
With wonder and a sense of humor, Kelly Brenner aims to help us rediscover our connection to the natural world that is just outside our front door--we just need to know where to look. Through explorations of a rich, varied urban landscape, Brenner reveals the complex micro-habitats and surprising nature that exists in the middle of a city. In her hometown of Seattle, which has plowed down hills, cut through the land to connect fresh- and saltwater, and paved over much of the rest, she exposes a diverse range of often unnoticed creatures. 'Nature Obscura' explores the species that inhabit the urban environment across the four seasons.
Reviews:
"Nature Obscura reveals the living city through delightful encounters with natural neighbors we all ought to know. An attentive, fun, and thoroughly engaging guide, Kelly Brenner will help you become a better naturalist every day." -- Robert Michael Pyle
"With observant eyes and beautiful prose, Kelly Brenner draws us all into the hidden depths of the urban wilderness. Hummingbirds, dragonflies, ferns, and even slime molds come to vibrant life alongside stories of the humans who keep watch over the nature that surrounds us. Nature Obscura inspires everyday wonder, adventure, and wisdom about our changing earth." -- Lyanda Lynn Haupt
"Gorgeously written and deeply felt, with rigorous research and information at its core." -- Jeff VanderMeer, author of Dead Astronauts
About the Author:
Kelly Brenner is a naturalist, writer and photographer based in Seattle. She grew up in the Pacific Northwest and has explored much of the region while investigating the local flora and fauna. After earning a degree in landscape architecture in 2009, Kelly founded The Metropolitan Field Guide (www.metrofieldguide.com) and continues to write on her website about urban nature, books, poetry, folklore, and a variety of other natural history topics. She has been published in Crosscut, National Wildlife Magazine and The Open Notebook, among others. She is active on Twitter (@KellyBrenner) where she shares nature observations and photos and hosts regular science games.