---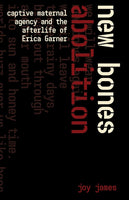 by Joy James
Common Notions
10/10/2023, paperback
SKU: 9781942173748
New Bones Abolition addresses "those of us broken enough to grow new bones" in order to stabilize our political traditions that renew freedom struggles.
Reflecting on police violence, political movements, Black feminism, Erica Garner, Mumia Abu-Jamal, caretakers and compradors, Joy James analyzes the "Captive Maternal," which emerges from legacies of colonialism, chattel slavery and predatory policing, to explore the stages of resistance and communal rebellion that manifest through war resistance. She recognizes a long line of gendered and ungendered freedom fighters, who, within a racialized and economically-stratified democracy, transform from coerced or conflicted caretakers into builders of movements, who realize the necessity of maroon spaces, and ultimately the inevitability of becoming war resisters that mobilize against genocide and state violence.
New Bones Abolition weaves a narrative of a historically complex and engaged people seeking to quell state violence. James discusses the contributions of the mother Mamie Till-Mobley who held a 1955 open-casket funeral for her fourteen-year-old Emmett Till, murdered by white nationalists; the 1971 rebels at Attica prison; the resilience of political prisoners despite the surplus torture they endured; the emergence of Black feminists as political theorists; human rights advocates seeking abolition; and the radical intellectualism of Erica Garner, daughter of Eric Garner slain in 2014 by the NYPD. James positions the Captive Maternal within the evolution of contemporary abolition. Her meditation on, and theorizing of, Black radicals and revolutionaries works to honor Agape-driven communities and organizers that deter state/police predatory violence through love, caretaking, protest, movements, marronage, and war resistance.
Reviews:
"A much needed reflection from the Black radical tradition on the second wave of Black Lives Matter protests following the murders of Michael Brown and Eric Garner. By focusing on caregivers in the movement Joy James not only defines new modes of analysis for our movement, but extends much needed recognition of the crucial role that Black women and other caregivers play in the struggle for Black liberation. Above all, this book is a testament to the power and brilliance of our warrior-sister Erica Garner." -- Michael Bento, #NYCShutItDown and contributor to No Pasarán! Antifascist Dispatches from a World in Crisis
"New Bones Abolition offers a series of dialectical engagements with the captive conditions of a racist society alongside an incisive assessment of movement gains, losses, and betrayals. Utilizing the Captive Maternal analytic, Joy James brilliantly maps the continuum from coerced or conflicted caregiving to war resistance against the physical, emotional, and psychological outcomes that are produced under a predatory democracy. We must grow new bones to recoup our generative and reproductive labor from those who enslave and imprison us--new bones that move beyond the rhetorical to materially confront imperialist violence and premature death. James' thoughtful and urgent work leaves us with a renewed commitment to the unfinished struggle for Black liberation." -- Jalessah T. Jackson, founder of the Decolonial Feminist Collective and Access Reproductive Care Southeast Interim Executive Director
About the Author:
Joy James, Ebenezer Fitch Professor of Humanities at Williams College, is the author of Resisting State Violence; Shadowboxing: Representations of Black Feminist Politics; Transcending the Talented Tenth; Seeking the Beloved Community; and most recently In Pursuit of Revolutionary Love and New Bones Abolition. James's numerous political theory articles on policing, prisons, abolitions, feminisms; and anti-Black racism include "The Womb of Western Theory," an exploration of the Captive Maternal. James is editor of The New Abolitionists; Imprisoned Intellectuals; Warfare in the American Homeland; The Angela Y. Davis Reader; and coeditor of The Black Feminist Reader.