---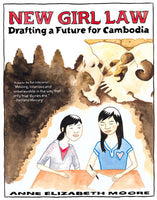 by Anne Elizabeth Moore
Cantankerous Titles, Microcosm
2013, paperback
SKU: 9781621064626
The Cambodian "Chbap Srei" is a 17th-century book that intended to establish a code of conduct for young women. Staunchly traditional, but repressive and frustrating, the first large group of young women in Cambodia decide to rewrite it with Moore. The year-long process culminates in a grand discussion of human rights and gender equity, and a hand-bound book for all participants. Tragically, the completed book was banned and censored in both Cambodia and the U.S. But what these bold young women learn next about when they are allowed to speak, and to whom, is chilling.
Reviews:
"New Girl Law is a post-Empirical, proto-fourth-wave-feminist memoir-cum-academic abstract that scrutinizes the current reality and future hope for women aspiring to positions of power in Cambodia." --Kathleen Willcox, "Bust Magazine"
"If you have ever thought, 'How can I, as a privileged woman/man/feminist/person from the United States/Western world, help the women of [choose a developing country] achieve freedom and be empowered?' you need to read this book." --Veronica I. Arreola, vivalafeminista.com
About the Author:
Anne Elizabeth Moore is the author of several books including Cambodian Grrrl and Unmarketable. Her writing has been published in "Feministing," "In These Times," The Onion," and "The Stranger," among others. She teaches at the School of the Art Institute of Chicago and has been featured on NPR's "Worldview." She lives in Chicago.