---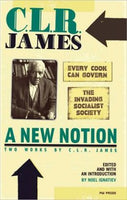 by C.L.R. James, introduction by Noel Ignatiev
PM Press
2011, paperback
SKU: 9781604860474
C.L.R. James was a leading figure in the independence movement in the West Indies, and the black and working-class movements in both Britain and the United States. As a major contributor to Marxist and revolutionary theory, his project was to discover, document, and elaborate the aspects of working-class activity that constitute the revolution in today's world. In this volume, Noel Ignatiev, author of How the Irish Became White, provides an extensive introduction to James' life and thought, before presenting two critical works that together illustrate the tremendous breadth and depth of James' worldview.
"The Invading Socialist Society," for James the fundamental document of his political tendency, shows clearly the power of James' political acumen and its relevance in today's world with a clarity of analysis that anticipated future events to a remarkable extent. "Every Cook Can Govern," is a short and eminently readable piece counterpoising direct with representative democracy, and getting to the heart of how we should relate to one another. Together these two works represent the principal themes that run through James's life: implacable hostility toward all "condescending saviors" of the working class, and undying faith in the power of ordinary people to build a new world.
Reviews:
"It would take a person with great confidence, and good judgment, to select from the substantial writings of C.L.R. James just two items to represent the 'principal themes' in James' life and thought. Fortunately, Noel Ignatiev is such a person. With a concise, but thorough introduction, Ignatiev sets the stage and C.L.R. James does the rest. In these often confusing times one way to keep one's head on straight and to chart a clear path to the future is to engage the analytical methods and theoretical insights of C.L.R. James. What you hold in your hands is an excellent starting point." -John H. Bracey Jr., professor of African-American Studies at the University of Massachusetts, Amherst and co-editor of Strangers & Neighbors: Relations Between Blacks & Jews in the United States.
"C.L.R. James has arguably had a greater influence on the underlying thinking of independence movements in the West Indies and Africa than any living man." -Sunday Times
"It remains remarkable how far ahead of his time he was on so many issues." -New Society
About the Author:
C. L. R. James is a major figure in Pan-Africanism and the author of a wide array of fiction and nonfiction, including Beyond a Boundary, A Majestic Innings: Writings on Cricket, and The Nobbie Stories for Children and Adults.
Noel Ignatiev is a teacher at the Massachusetts College of Art and Design, the editor of Lesson of the Hour: Wendell Phillips on Abolition and Strategy, and the author of How the Irish Became White. He lives in Boston.