---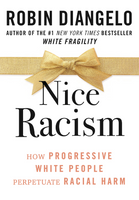 by Robin DiAngelo
Beacon Press
8/11/2022, paperback

SKU: 9780807055571
Building on the groundwork laid in the New York Times bestseller White Fragility, Robin DiAngelo explores how a culture of niceness inadvertently promotes racism.
In White Fragility, Robin DiAngelo explained how racism is a system into which all white people are socialized and challenged the belief that racism is a simple matter of good people versus bad. DiAngelo also made a provocative claim: white progressives cause the most daily harm to people of color. In Nice Racism, her follow-up work, she explains how they do so. Drawing on her background as a sociologist and over 25 years working as an anti-racist educator, she picks up where White Fragility left off and moves the conversation forward.
Writing directly to white people as a white person, DiAngelo identifies many common white racial patterns and breaks down how well-intentioned white people unknowingly perpetuate racial harm. These patterns include:
- rushing to prove that we are "not racist"
- downplaying white advantage
- romanticizing Black, Indigenous and other peoples of color (BIPOC)
- pretending white segregation "just happens"
- expecting BIPOC people to teach us about racism
- carefulness
- and feeling immobilized by shame.
DiAngelo explains how spiritual white progressives seeking community by co-opting Indigenous and other groups' rituals create separation, not connection. She challenges the ideology of individualism and explains why it is OK to generalize about white people, and she demonstrates how white people who experience other oppressions still benefit from systemic racism. Writing candidly about her own missteps and struggles, she models a path forward, encouraging white readers to continually face their complicity and embrace courage, lifelong commitment, and accountability.
Nice Racism is an essential work for any white person who recognizes the existence of systemic racism and white supremacy and wants to take steps to align their values with their actual practice. BIPOC readers may also find the "insiders" perspective useful for navigating whiteness.
Includes a study guide.
Reviews:
"In this illuminating follow-up to White Fragility, Robin DiAngelo integrates sharp insight, personal vulnerability, and compassionate guidance with the keen eye of an 'insider.' Focusing specifically on the more subtle patterns of white progressives, her work continues to be invaluable to the project of ending white supremacy."  -- Resmaa Menakem, author of My Grandmother's Hands: Racialized Trauma and the Pathway to Mending Our Hearts and Bodies
"Personal transformation is an act of anti-racism, and DiAngelo has just given progressive white America the field guide."  -- Michael Eric Dyson, author of Long Time Coming
"Spectacular! With the precision of a social scientist, Robin DiAngelo dissects and puts under the microscope seemingly benign 'white moves'--including her own--in ways that make undeniable how each functions to recalibrate white dominance and comfort again and again. A critical tool for white progressives wanting to know better so we can do better."  -- Debby Irving, author of Waking Up White, and Finding Myself in the Story of Race
About the Author:
Dr. Robin DiAngelo is an affiliate associate professor of education at the University of Washington. She has been a consultant, educator, and facilitator on issues of racial and social justice for more than 25 years. She is the author or coauthor of several books, including the number-one New York Times bestseller White Fragility. Her work has been praised by Ibram X. Kendi, Michael Eric Dyson, Claudia Rankine, and Jonathan Capehart, among others.