---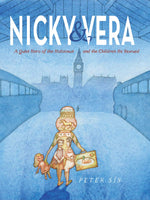 by Peter Sís
Norton Young Readers
1/26/2021, hardcover
SKU: 9781324015741
In 1938, twenty-nine-year-old Nicholas Winton saved the lives of almost 700 children trapped in Nazi-occupied Czechoslovakia--a story he never told and that remained unknown until an unforgettable TV appearance in the 1980s reunited him with some of the children he saved.
Czech-American artist, MacArthur Fellow, and Andersen Award winner Peter Sís dramatizes Winton's story in this distinctive and deeply personal picture book. He intertwines Nicky's efforts with the story of one of the children he saved--a young girl named Vera, whose family enlisted Nicky's aid when the Germans occupied their country. As the war passes and Vera grows up, she must find balance in her dual identities--one her birthright, the other her choice.
Nicky & Vera is a masterful tribute to a humble man's courageous efforts to protect Europe's most vulnerable, and a timely portrayal of the hopes and fears of those forced to leave their homes and create new lives.
Target age: 6 to 8
About the Author:
Peter Sís is the Czech-born author/illustrator of three Caldecott Honor books, including The Wall, which also won the Sibert Medal. He is the first children's book illustrator to win the MacArthur Fellowship, and also won the Hans Christian Andersen Award. He lives in Irvington, New York.