---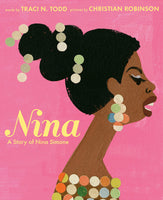 by Traci N. Todd, Illustrated by Christian Robinson
G.P. Putnam's Sons Books for Young Readers

9/28/2021, hardcover
SKU: 9781524737283
This illuminating and defining picture book biography illustrated by Caldecott Honoree Christian Robinson, tells the story of little Eunice who grew up to become the acclaimed singer Nina Simone and her bold, defiant, and exultant legacy.
Born Eunice Kathleen Waymon in small town North Carolina, Nina Simone was a musical child. She sang before she talked and learned to play piano at a very young age. With the support of her family and community, she received music lessons that introduced her to classical composers like Bach who remained with her and influenced her music throughout her life. She loved the way his music began softly and then tumbled to thunder, like her mother's preaching, and in much the same way as her career. During her first performances under the name of Nina Simone her voice was rich and sweet but as the Civil Rights Movement gained steam, Nina's voice soon became a thunderous roar as she raised her voice in powerful protest in the fight against racial inequality and discrimination.
Target age: 4 to 8
Reviews:
"Todd moves effortlessly between silky narration marked by subtle wordplay, and pointed references to Simone's musical activism. Robinson's collage compositions convey critical civil rights context in scenes playing out atop Simone's grand piano strings, often fiery images that contrast with the pictures of Simone's childhood origin story and her front-stage panache." -- The Bulletin of the Center for Children's Books
About the Contributors:
When Chicago native Traci N. Todd was born, her father decided her initials should stand for dynamite, just like his. He raised her on Ray Charles and Nina Simone, and her mother read her every good book. Traci grew up to become a children's book editor and currently lives in Jackson Heights, Queens where she writes, edits, and listens to Ray Charles and Nina Simone, while her partner draws comic books.
Christian Robinson received a Caldecott Honor and a Coretta Scott King Illustrator Honor for his art in Last Stop on Market Street. He is the author and illustrator of the picture books Another and You Matter, and he has illustrated many more, including Carmela Full of Wishes, the Gaston and Friends series, School's First Day of School, and The Smallest Girl in the Smallest Grade.