---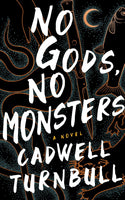 by Cadwell Turnbull
Blackstone Publishing
09/06/2022, paperback
SKU: 9798200834419
One October morning, Laina gets the news that her brother has been shot and killed by Boston cops. But what looks like a case of police brutality soon reveals something much stranger. Monsters are real. And they want everyone to know it.
As creatures from myth and legend come out of the shadows, seeking safety through visibility, their emergence sets off a chain of seemingly unrelated events. Members of a local werewolf pack are threatened into silence. A professor follows a missing friend's trail of bread crumbs to a mysterious secret society. And a young boy with unique abilities seeks refuge in a pro-monster organization with secrets of its own. Meanwhile, more people start disappearing, suicides and hate crimes increase, and protests erupt globally, both for and against the monsters.
At the center is a mystery no one thinks to ask: Why now? What has frightened the monsters out of the dark?
The world will soon find out.
Reviews:
"Beautifully fantastical." -- NPR
"No Gods, No Monsters is a haunting tale of the monsters that live among us, and those who despise them. Through a series of diverse, rich, and beautifully written voices, Turnbull deftly weaves together a story of supernatural beings, otherworldly entities, magic, and quantum physics, superimposed onto the social and political challenges of our mundane world. Throughout, we are forced to dwell not only our own humanity, but question who exactly are the monsters we fear? Once I started this novel I could not put it down. You won't be able to either." -- P. Djèlí Clark, author of Ring Shout
"It's such an expertly crafted novel that I'm almost mad about it; it's smart and intense in the best way. Turnbull pulls no punches here, and the result is something powerful." -- "Christina Orlando, Tor.com

About the Author:
Cadwell Turnbull is the author of The Lesson and No Gods, No Monsters. His short fiction has appeared in The Verge, Lightspeed, Nightmare, Asimov's Science Fiction, and several anthologies, including The Best American Science Fiction and Fantasy 2018 and The Year's Best Science Fiction and Fantasy 2019. The Lesson was the winner of the 2020 Neukom Institute Literary Award in the debut category and No Gods, No Monsters won the 2022 Lambda Literary Award for Best LGBTQ Speculative Fiction. Turnbull lives in Raleigh and teaches creative writing at North Carolina State University.