---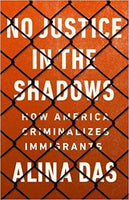 by Alina Das
Bold Type Books
4/14/2020, hardcover
SKU: 9781568589466
This provocative account of our immigration system's long, racist history reveals how it has become the brutal machine that upends the lives of millions of immigrants today.
Each year in the United States, hundreds of thousands of people are arrested, imprisoned, and deported, trapped in what leading immigrant rights activist and lawyer Alina Das calls the "deportation machine." The bulk of the arrests target people who have a criminal record -- so-called "criminal aliens" -- the majority of whose offenses are immigration-, drug-, or traffic-related. These individuals are uprooted and banished from their homes, their families, and their communities.

Through the stories of those caught in the system, Das traces the ugly history of immigration policy to explain how the U.S. constructed the idea of the "criminal alien," effectively dividing immigrants into the categories "good" and "bad," "deserving" and "undeserving." As Das argues, we need to confront the cruelty of the machine so that we can build an inclusive immigration policy premised on human dignity and break the cycle once and for all.
Reviews:
"Alina Das' book is a necessary and compelling read to understand how the immigration system in the United States targets Black and Brown immigrants. Das writes with compassion about her clients whose lives are altered by cruel and arbitrary immigration policies that aim to exclude, ban, separate, detain and deport millions of people. Das' book urgently reminds us that ending white supremacy requires the dismantlement of the structures and policies that undergird today's immigration system."-- Deepa Iyer, author of We Too Sing America: South Asian, Arab, Muslim, and Sikh Immigrants Shape Our Multiracial Future
"Alina Das has written a riveting account of the cruelty and inhumanity of our immigration system. You can no longer say you did not know or sit on the sidelines. This book is powerful, informative, moving, and most importantly, a call to action to protect our immigrant neighbors and commit to building a country that respects the dignity of all people."-- Linda Sarsour, activist and author of We Are Not Here to Be Bystanders: A Memoir of Love and Resistance
About the Author:
Alina Das is an immigrant rights activist, lawyer, and professor at New York University (NYU) School of Law. Das is the co-director of the NYU Immigrant Rights Clinic, a leading institution in national and local struggles for immigrant rights. She defends the rights of immigrants facing deportation and partners with community groups on immigrant rights campaigns. Her legal scholarship has been published by leading law journals and cited by the U.S. Supreme Court.
Das is the recipient of numerous awards for advocacy and teaching, including the Immigrant Defense Project Champion of Justice Award, the Daniel Levy Memorial Award for Outstanding Achievement in Immigration Law, the New York State Youth Leadership Council Outstanding Attorney Award, the NYU Dr. Martin Luther King Jr. Faculty Award, and the NYU Law School Podell Distinguished Teaching Award. Das is a frequent commentator on immigration law and policy for national and local media outlets. Das lives in Brooklyn, New York.