---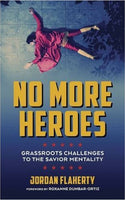 by Jordan Flaherty
AK Press
2016, paperback
SKU: 9781849352666
How can we build a better world? And why do so many people with privilege end up making things worse when they try to help? It's called the savior mentality, and Jordan Flaherty finds it in FBI informants, anti-sex-work crusaders, Teach For America corps members, and out-of-touch journalists. No More Heroes celebrates grassroots challenges to these saviors and highlights movements focused on real, systemic change from the Arab Spring to Black Lives Matter.
Reviews:
"Jordan Flaherty's No More Heroes is a both fascinating documentation of recent movement history that I enjoyed the hell of out reading, and an example of solidarity journalism at its best. From cautionary tales about rapey manarchist saviors who turn out to be FBI informants, to a breakdown of why most of the people trying to save sex workers actually cause violence and damage, this book is essential literature for movements and people trying to figure out how to do right and not play into the ableist charity and savior models that have been killing us for too long." - Leah Piepzna-Samarasinha, author of Dirty River
"No More Heroes is a vitally useful intervention in the current political moment. Spot-on analysis, gripping examples, and a clear, urgently necessary argument about how we need to re-think harmful rescue frames and the leadership models they foster will make this book immensely useful to contemporary movements." - Dean Spade, author of Normal Life
"No More Heroes is an a much-needed critique of unchecked leadership within causes and social movements. At a time when media latches onto figureheads and sound bites, Jordan Flaherty helps us understand how new movements are able to be democratic, decentralized and effective in changing policy and rewriting discourse." - Francesca Fiorentini, Host and Producer of AJ+
"If you are earnest in the desire to be a good white ally, if you are a Black male looking to support his sisters in struggle or a cisgendered male trying to find his way in the fight for LGBTQ liberation, you must read this book." - Max Rameau, author of Take Back the Land
"From Jordan Flaherty, the journalist who broke the story of the Jena Six, comes this thrilling people's history of current movements for revolutionary change. A powerful, engaging, exciting book for anyone concerned about the state of the world." - Cynthia McKinney, former Georgia congresswoman
"Longtime movement journalist Jordan Flaherty grounds his analysis of the money, power, and seductive ideology driving the present-day savior impulse in the brutal histories of colonial domination and racism. A wake-up call to decolonize US-based activism and international solidarity work, everyone interested in social change should read this book." - Anjali Kamat, independent journalist
About the Author:
Jordan Flaherty is an award-winning journalist, producer, and author. He has appeared as a guest on a wide range of television and radio shows including Anderson Cooper 360, CNN Headline News, and News and Notes on NPR. His most recent book is Floodlines: Community and Resistance From Katrina to the Jena Six. Most recently, Flaherty has produced content for Al Jazeera America and is executive producer of The Laura Flanders Show.