---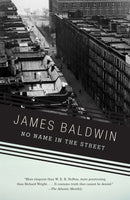 by James Baldwin
Vintage
1/9/2007, paperback
SKU: 9780307275929
An extraordinary history of the turbulent sixties and early seventies that displays James Baldwin's fury and despair more deeply than any of his other works, and powerfully speaks to contemporary conversations around racism. 
In this stunningly personal document, James Baldwin remembers in vivid details the Harlem childhood that shaped his early conciousness and the later events that scored his heart with pain--the murders of Martin Luther King and Malcolm X, his sojourns in Europe and in Hollywood, and his retum to the American South to confront a violent America face-to-face.
 Reviews:
"More eloquent than W. E. B. DuBois, more penetrating than Richard Wright.... It contains truth that cannot be denied." --The Atlantic Monthly
"Characteristically beautiful.... He has not himself lost access to the sources of his being-which is what makes him read and awaited by perhaps a wider range of people than any other major American writer." --The Nation
About the Author:
James Baldwin was born in 1924 and educated in New York. He is the author of more than twenty works of fiction and nonfiction, including Go Tell It on the Mountain, Notes of a Native Son, Giovanni's Room, Nobody Knows My Name, Another Country, and The Fire Next Time. Among the awards he received are a Eugene F. Saxon Memorial Trust Award, a Rosenwald Fellowship, a Guggenheim Fellowship, a Partisan Review Fellowship, and a Ford Foundation grant. He was made a Commander of the Legion of Honor in 1986. Baldwin died in 1987.