---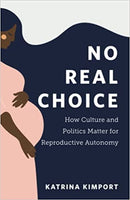 by Katrina Kimport
Rutgers University Press
10/15/2021, paperback
SKU: 9781978817913

In the United States, the "right to choose" an abortion is the law of the land. But what if a woman continues her pregnancy because she didn't really have a choice? What if state laws, federal policies, stigma, and a host of other obstacles push that choice out of her reach?
Based on candid, in-depth interviews with women who considered but did not obtain an abortion, No Real Choice punctures the myth that American women have full autonomy over their reproductive choices. Focusing on the experiences of a predominantly Black and low-income group of women, sociologist Katrina Kimport finds that structural, cultural, and experiential factors can make choosing abortion impossible-especially for those who experience racism and class discrimination. From these conversations, we see the obstacles to "choice" these women face, such as bans on public insurance coverage of abortion and rampant antiabortion claims that abortion is harmful. Kimport's interviews reveal that even as activists fight to preserve Roe v. Wade, class and racial disparities have already curtailed many women's freedom of choice.
No Real Choice analyzes both the structural obstacles to abortion and the cultural ideologies that try to persuade women not to choose abortion. Told with care and sensitivity , No Real Choice gives voice to women whose experiences are often overlooked in debates on abortion, illustrating how real reproductive choice is denied, for whom, and at what cost.
Reviews:
"No Real Choice offers important insights into the reproductive experiences of women, especially poor women of color. The result is a reframing of the choice for women, from one of deciding between abortion and the continuation of pregnancy to one of deciding whether or not to have an abortion."--Nazli Kibria, author of Becoming Asian American
About the Author:
Katrina Kimport is an associate professor in the Advancing New Standards in Reproductive Health (ANSIRH) program in the Department of Obstetrics, Gynecology & Reproductive Sciences at the University of California, San Francisco. Her books include Queering Marriage: Challenging Family Formation in the United States (Rutgers University Press).