---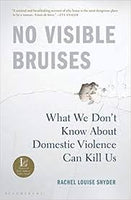 by Rachel Louise Snyder
Bloomsbury Publishing
5/7/2019
SKU: 9781635570977
We call it domestic violence. We call it private violence. Sometimes we call it intimate terrorism. But whatever we call it, we generally do not believe it has anything at all to do with us, despite the World Health Organization deeming it a "global epidemic." In America, domestic violence accounts for 15 percent of all violent crime, and yet it remains locked in silence, even as its tendrils reach unseen into so many of our most pressing national issues, from our economy to our education system, from mass shootings to mass incarceration to #MeToo. We still have not taken the true measure of this problem.
About the Author:
Rachel Louise Snyder
's work has appeared in the
New Yorker, the New York Times Magazine, the Washington Post, the New Republic, and elsewhere. Her other books include Fugitive Denim: A Moving Story of People and Pants in the Borderless World of Global Trade, and the novel What We've Lost is Nothing. She has been the recipient of an Overseas Press Award for her work on This American Life. No Visible Bruises was awarded the J. Anthony Lukas Work-in-Progress Award. An associate professor at American University, Snyder lives in Washington, D.C. Follow her on Twitter at @RLSWrites.