---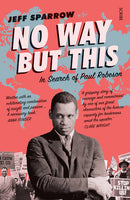 by Jeff Sparrow
Scribe
2018, paperback
SKU: 9781925321852
Paul Robeson was a brilliant student and champion athlete who abandoned a career in law to find worldwide fame as a performer and activist. He was undoubtedly the most famous African American of his time, perhaps, in the words of both Time magazine and W.E.B Dubois, "the best known American on earth."
The son of a former slave, Robeson's life took him to Hollywood via the Harlem Renaissance and London's West End. While he stunned audiences with his performances of "Ol' Man River" and Othello, he also championed social justice around the world, travelling from the coal-mining towns of Wales, to the frontiers of the Spanish Civil War, and to the Soviet Union.
Yet his hunger for justice was too keen for his times. "I am a radical," he said, "and I am going to stay one until my people get free to walk the earth." He confronted Harry S. Truman one-on-one in the White House; filed a petition with the U.N. accusing the U.S of genocide towards African Americans; and his stratospheric rise would reach its end in the courtroom of the McCarthy hearings. Today, Robeson is largely unknown, his legacy obscured by the forces of history that destroyed him.
Jeff Sparrow traces Robeson's career, showing how his remarkable life tells the story of the twentieth century and illuminates today's reality. From Black Lives Matter to Putin's United Russia, Sparrow explores questions of race in America, political freedom in Moscow, and the legacy of communism in Europe. Part travelogue, part biography, it is a story of political ardor, heritage, and trauma--a luminous portrait of a man and an urgent reflection on the politics that define us now.