---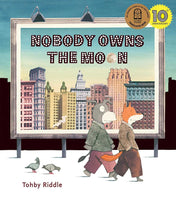 by Tohby Riddle
Berbay Publishing
10/19/2021, hardcover
SKU: 9780994384195
Clive Prendergast is a fox who lives successfully in the city, in a one-room apartment in a busy part of town. Humphrey is a donkey who works odd jobs and doesn't always have a fixed address. Life in the city is a mixed bag for these two, but a special looking blue envelope is about to change everything for one wonderful night. Nobody Owns the Moon is the story of their friendship. This modern classic picture book is a perfect marriage of text and image and timeless in its message of belonging and community.
Target age: 4 to 8
Reviews:
"Nobody Owns the Moon is a standout classic for all ages, a masterly tale of friendship and dignity that fits perfectly into any hand, paw or hoof." -- Shaun Tan, author of The Arrival
"Respectful of children's intelligence, the book presents topics such as friendship, acceptance, belonging, and otherness that will challenge them to think further." -- Kirkus Reviews

About the Author:
Tohby Riddle is an award-winning creator of picture books. His books also include The Singing Hat, The Great Escape from City Zoo and Irving the Magician (all three were shortlisted for CBCA Picture Book of the Year and more).