---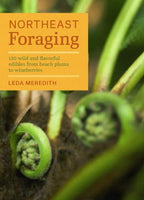 by Leda Meredith
Timber Press
4/8/2014, paperback
SKU: 9781604694178
The Northeast offers a veritable feast for foragers, and with Leda Meredith as your trusted guide you will learn how to safely find and identify an abundance of delicious wild plants. The plant profiles in Northeast Foraging include clear, color photographs, identification tips, guidance on how to ethically harvest, and suggestions for eating and preserving. A handy seasonal planner details which plants are available during every season. Thorough, comprehensive, and safe, this is a must-have for foragers in New York, Connecticut, Massachusetts, Maine, New Hampshire, Vermont, Pennsylvania, New Jersey, Delaware, and Rhode Island.
Reviews:
"Although I have over 200 books on foraging in my collection, I would rate this as one of the very best." --Wildness Magazine
" Northeast Foraging is detailed, accessible, and useful to new and experienced foragers alike." -- NYBG's Plant Talk
About the Author:
Leda Meredith is a lifelong forager and a certified ethnobotanist. She is an instructor at the New York Botanical Garden and at the Brooklyn Botanic Garden, specializing in edible and medicinal plants. The author of four other books, Meredith writes for Mother Earth News and leads tours internationally for organizations including Slow Food, Green Edge, Cornell University, and Purchase University.