---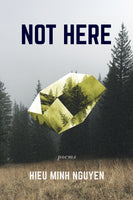 by Hieu Minh Nguyen
Coffee House Press
04/10/2018, paperback
SKU: 9781566895095
Not Here is a flight plan for escape and a map for navigating home; a queer Vietnamese American body in confrontation with whiteness, trauma, family, and nostalgia; and a big beating heart of a book. Nguyen's poems ache with loneliness and desire and the giddy terrors of allowing yourself to hope for love, and revel in moments of connection achieved.
Reviews:
"Nguyen's voice feels simultaneously young and ageless, uncertain and wise. His poems are pitched somewhere between page and stage, as if said aloud right into your ear." -- NPR
"These dazzling poems by Vietnamese-American poet Hieu Minh Nguyen are exactly what we want to be reading next year, as they provocatively address the in-between spaces in life, those areas between love and longing, pain and pleasure, belonging and alienation. Nguyen's imagery is a sensory wonder, evocative of the depths of trauma and the dizzying heights of hopefulness and desire." -- Nylon
"The worlds Nguyen summons and dismisses in these poems are mesmerizing, like the visions of a sorcerer, but not because they're magical -- because they're real. All of them animated by a wild wit that feels like it could throw a car like a baseball. I've been waiting for this book, and if you've ever read one of these, you probably have been too -- this is an essential debut. Not Here is here." -- Alexander Chee, author of The Queen of the Night
About the Author:
Hieu Minh Nguyen is the author of This Way to the Sugar (Write Bloody Publishing, 2014) and Not Here (Coffee House Press, 2018). Winner of the Thom Gunn Award for Gay Poetry, both of his collections of poetry were also finalists for a Minnesota Book Award and a Lambda Literary Award. In 2019 Hieu was awarded the Wallace Stegner Fellowship from Stanford University. He is also 2018 Ruth Lily and Dorothy Sargent Rosenberg Fellow, 2018 McKnight Writing Fellow, a Kundiman Fellow, a 2017 National Endowment for the Arts Literature Fellow, the recipient of the Minnesota Emerging Writers' Grant, and an Artist Initiative Grant from the Minnesota State Arts Board. He is a poetry editor for Muzzle Magazine. His work has also appeared or is forthcoming in Poetry Magazine, the New York Times, Best American Poetry, the Academy of American Poets, BuzzFeed, and elsewhere. He lives in Oakland and is a graduate from the MFA Program for Writers at Warren Wilson College.