---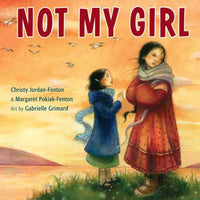 by Christy Jordan-Fenton and Margaret Pokiak-Fenton
Illustrated by Gabrielle Grimard
Annick Press
1/9/2014, paperback
SKU: 9781554516247
Margaret can t wait to see her family, but her homecoming is not what she expected. Based on the true story of Margaret Pokiak-Fenton, and complemented by evocative illustrations, Not My Girl makes the original, award-winning memoir, A Stranger at Home, accessible to younger children. It is also a sequel to the picture book When I Was Eight. A poignant story of a determined young girl s struggle to belong, it will both move and inspire readers everywhere.
Target age: 6-7

About the Contributors:
Christy Jordan-Fenton and Margaret Pokiak-Fenton are the authors of Fatty Legs, A Stranger at Home and When I Was Eight. They live in Fort St. John, British Columbia.