---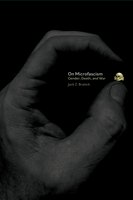 by Jack Z. Bratich
Common Notions
1/4/2022, paperback
SKU: 9781942173496
Rooted in an understanding of how the fascist body is constructed, we can develop the collective power to dismember it.
Fascist and reactionary populist forces have undeniably swelled in the US in recent years. To effectively counter fascist movements, we need to understand them beyond their most visible and public expressions. To do this, Jack Bratich asserts, we must dig deeper into the psyche and body that gives rise to fascist formations. There we will find microfascism, or the cultural ways in which a fascist understanding of the world is generated from the hatreds that suffuse everyday life.
By highlighting the misogyny at fascism's core, we are able to observe a key process in the formation of a fascist body. Recognizing the microfascism behind appeals to recover the past glory of white male subjects created by earlier foundational wars, we see how histories of settler colonialism, genocide, and domination are animating the deadly mission of fascism today. By focusing on the variety of ways the resurgent fascist tendency courts its own destruction (and demands the destruction of others), we can trace how fascism refines and expands the death and annihilation that underpins capitalist, colonial, and patriarchal systems.
On Microfascism is far-reaching and unsettling. Still, Bratich insists, the new fascism is not as powerful as its adherents wish us to believe. To defeat it, we must develop and defend a "micro-antifascism" grounded in the ethics of mutual aid and care in the everyday. Rooted in an understanding of how the fascist body is constructed, we can develop the collective power to dismember it.
Reviews:
"On Microfascism provides crucial insight into the gendered dynamics and libidinal binds of everyday fascisms. In a devastating analysis of the necropolitical drive and militarized infatuations of fascist subjectivity, Bratich highlights the concerted authoritarian desire for the restoration and renewal of white supremacist heteropatriarchy. On Microfascismis a generative companion to such significant and varied studies as Ewa Majewska's and Natasha Lennard's writing on antifascist feminism and Klaus Theweleit's classic analysis of the misogynistic psychopathologies of the German Freikorps."--Alyosha Goldstein, coeditor of For Antifascist Futures: Against the Violence of Imperial Crisis
"On Microfascism is a profoundly original and compelling analysis of fascism's deep roots in Western traditions of patriarchy. By pinpointing the foundational role of the concept of autogenetic sovereignty and charting its many implications for how we live and die, Bratich equips readers with the intellectual framework necessary to wage not only an anti-fascist struggle, but an anti-microfascist struggle."-- Mark Bray, author of Antifa: The Anti-Fascist Handbook
"On Microfascism unpacks the deeply disturbing gender narratives that underskirt our societies and create an insurgent cruelty that corrodes our human relationships. This is an incredible intervention in the crisis we are living through and calls for us to collectively look deeper when responding to the growth of misogynist, white supremacist movements."-- Shane Burley, author of Why We Fight: Essays on Fascism, Resistance, and Surviving the Apocalypse
About the Author:
Jack Z. Bratich is Associate Professor in the Journalism and Media Studies Department at Rutgers University. He is author of Conspiracy Panics: Political Rationality and Popular Culture and coeditor of Foucault, Cultural Studies, and Governmentality. He is also a zine librarian at ABC No Rio in New York City.