---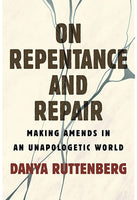 by Danya Ruttenberg
Beacon Press
9/13/2022, hardcover
SKU: 9780807010518
A crucial new lens on repentance, atonement, forgiveness, and repair from harm -- from personal transgressions to our culture's most painful and unresolved issues
American culture focuses on letting go of grudges and redemption narratives instead of the perpetrator's obligations or recompense for harmed parties. As survivor communities have pointed out, these emphases have too often only caused more harm. But Danya Ruttenberg knew there was a better model, rooted in the work of the medieval philosopher Maimonides.
For Maimonides, upon whose work Ruttenberg elaborates, forgiveness is much less important than the repair work to which the person who caused harm is obligated. The word traditionally translated as repentance really means something more like return, and in this book, returning is a restoration, as much as is possible, to the victim, and, for the perpetrator of harm, a coming back, in humility and intentionality, to behaving as the person we might like to believe we are.
Maimonides laid out five steps: naming and owning harm; starting to change/transformation; restitution and accepting consequences; apology; and making different choices. Applying this lens to both our personal relationships and some of the most significant and painful issues of our day, including systemic racism and the legacy of enslavement, sexual violence and harassment in the wake of #MeToo, and Native American land rights, On Repentance and Repair helps us envision a way forward.
Rooted in traditional Jewish concepts while doggedly accessible and available to people from any, or no, religious background, On Repentance and Repair is a book for anyone who cares about creating a country and culture that is more whole than the one in which we live, and for anyone who has been hurt or who is struggling to take responsibility for their mistakes.

Reviews:
"When you read Danya Ruttenberg's brilliant book, you see with fresh eyes that there is a huge omission in contemporary culture: we don't have a road map for how someone who's done harm can change and make amends to others, nor do we discuss why this is necessary for both individual recovery and societal well-being." -- Rebecca Solnit, author of Hope in the Dark and Orwell's Roses
"Ruttenberg's book sets out guidelines for full-hearted repentance -- the kind of atonement that people should do, but often don't."
-- Sandra Collins, Library Journal
"Although the book is based in Jewish concepts, it's really a book for anyone looking to see how our society can acknowledge its harm and create the world we'd like to see." -- Jaime Herndon, Bookriot
About the Author:
Rabbi Danya Ruttenberg is an award-winning author and writer who serves as scholar in residence at the National Council of Jewish Women (NCJW). She was named by Newsweek as a "rabbi to watch" and a "faith leader to watch" by the Center for American Progress, and she has been a Washington Post Sunday crossword clue (83 Down). The author of several books, she has written for the New York Times, the Washington Post, The Atlantic, Time, and other publications.