---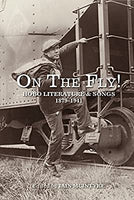 Iain McIntyre
PM Press
9/1/2018, paperback
SKU: 9781629635187
The first anthology of its kind , On The Fly! collects dozens of stories, poems, songs, stories, and articles produced by hoboes to create an insider history of the subculture's rise and fall. Adrenaline-charged tales of train hopping, scams, and political agitation are combined with humorous and satirical songs, razor sharp reportage and unique insights into the lives of the women and men who crisscrossed America in search of survival and adventure. With little of the original memoirs, literature, and verse remaining in print, this collection, aided by a glossary of hobo vernacular and numerous illustrations and photos, provides a comprehensive and entertaining guide to the life and times of a uniquely American icon.
Reviews:
"This book is a tantalizing boxcar ride back through the history of the hobo, all told from the hobo's point of view. What more could anyone ask?" --Paul Garon, coeditor, What's the Use of Walking When There's a Freight Train Going Your Way: Black Hoboes and Their Songs and author, Blues and the Poetic Spirit
"In an era when tent cities spring up in prosperous American metropolitan areas, the lives captured in On the Fly! feel less comfortably distant than we might like. That is perhaps why the best of these classic accounts of "bumming around" retain all their simmering anger and desperate optimism." --Ernest Hilbert, The Washington Post
About the Author:
Iain McIntyre is a Melbourne-based author, musician, and community radio broadcaster who has written a variety of books on activism, history, and music. Previous publications include Girl Gangs, Biker Boys, and Real Cool Cats: Pulp Fiction and Youth Culture from the 1950 to 1980, How to Make Trouble and Influence People: Pranks, Protest, Graffiti and Political Mischief-Making from Across Australia, Wild About You: The Sixties Beat Explosion in Australia and New Zealand, and Tomorrow Is Today: Australia in the Psychedelic Era, 1966-70.